THREE NEW Canterbury Bus Routes Launched By Logan Coaches For Term 3 Onwards!

After two months of community consultation, and route adjustments based on feedback from current and prospective Canterbury families, our public transport partners Logan Coaches are launching THREE new College bus routes commencing from Day One of Term Three on Monday 11 July 2022.
Canterbury College | Logan Coaches: NEW School Bus Run 32 – Ormeau, Luscombe, Bannockburn, Belivah, Windaroo, Bahrs Scrub, Brookhaven, Mount Warren Park, Beenleigh, Bethania (Train Station), Waterford.
Canterbury College | Logan Coaches: NEW School Bus Run 42 – Parkinson, Calamvale, Drewvale, Hillcrest, Regents Park, Browns Plains, Berrinba, Marsden, Crestmead, Kingston, Waterford.
Canterbury College | Logan Coaches: NEW School Bus Run 43 – Eagleby, Beenleigh, Holmview, Woodlands, Mount Warren Park, Bethania (Train Station), Waterford.
Please find these bus routes summarised below and attached:
IMPORTANT: These new routes may alter slightly as they get bedded into regular use and with ongoing parent feedback and student bookings.
Our ultimate goal is to eliminate a lack of handy bus routes as a reason for any parents or carers not enrolling their children here at Waterford.
So please share this information with any families you might know, who are considering starting or switching over to Canterbury for Semester Two, to make that initial enquiry with us using the contact details below:
Enrolment Enquiries – 07 3299 0888 | 
Online Enquiry Form – General Enrolment Enquiry Form – Canterbury College
Online Application Form – Application For Enrolment | Canterbury College
These three new bus services ADD to our existing coverage spanning all directions north, south, east and west of our campus, without any impact or removal of current bus routes.
We are also steadily implementing Logan Coaches' new RollCall App School Bus Management System, which allows for easier bus route student sign-ups, route change notifications, absentee notices, payments, live bus arrival times tracking, and parental student tracking for child safety.
Importantly, this RollCall App clearly shows where each bus stop is located on each street summarised in the new bus route guides featured here.
Full RollCall details are available from:
RollCall School Bus Management System Website.
Logan Coaches – logancoaches.com.au | 07 5546 3077 | 
Address: 1 Centenary Place, Logan Village. Office Hours: 8am – 5pm, Monday – Friday.
And will soon be replicated on our College Website – Bus Routes – Canterbury College.
COMMUNITY FEEDBACK
Finally, here is a sample of the community feedback on the originally proposed two bus routes – both positive and negative – with Logan Coaches' direct responses.
33,680 Audience Reach | 2,345 Link Clicks | 74 Likes & 4 Loves & 0 Dislikes | 38 Comments | 8 Shares.
Draft Bus Run 1 – Covers Parkinson, Drewvale, Browns Plains, Hillcrest, Regents Park, Crestmead, Waterford.
Bus run 1 would be fantastic. – MR
School run 1 would be great for my girls. Also, roughly what kind of fares are we looking at? – VG
Great idea. – PK
We would access run 1. – MC
We would use bus run 1 if we enrolled. – SA
Run 1 please. – DN
School Bus Run 1. – RD
We would use bus run 1 if we enrolled. – RCR
School Bus Run 1. – SK
My son is a current student at Canterbury College and we currently use bus route 29 (which is awesome by the way). We would be interested in the PM potential bus route to Parkinson if it had the ability to drop my son off at the aquatic centre on Algester Road in the afternoon. The proposed route goes past the aquatic centre. – PE
Logan Coaches: Service would pick up at TransLink Stop opposite the Aquatic Centre (6:55am) and drop off at the TransLink Stop at the Aquatic Centre (approx. 4:40pm).
We would certainly be interested in using the new bus route through Parkinson. – MMcF
It is really great news, we live in Regents Park. I have few queries regarding this bus route. This bus route will only take Canterbury students or other schools students? At Waller Road, whereabouts it will pick kids from? Thanks for making this bus route available. Have a great weekend! – SC
Logan Coaches: This service would be for Canterbury Students.
In this case, the bus would pick up at any TransLink Bus Stop between Lamberth Drive and Browns Plains Road.
I've seen other school buses go through bus run 1 daily. I've been wondering why a Canterbury bus doesn't come through that area. – GS
Thanks for drafting a new school bus line plan. I think this Parkinson route will take too much time due to excessive number of stops. – PC
Logan Coaches: We needed to set a base timetable for this proposed route.
The Parkinson/Algester service will add an additional 30 min in the morning and an additional 20-30 min in the afternoon, therefore an extra hour to the school day. Why the need to replace the existing service? – SE
Logan Coaches: This is an additional Bus Service and not added to Run 31 that services Calamvale and Sunnybank.
Draft Bus Run 2 – Covers Eagleby, Beenleigh, Windaroo, Bahrs Scrub, Brookhaven, Holmview, Waterford.
We're at Bahrs and already access bus number 32 from Ormeau but would certainly use run 2. – JT
We would use bus run 2. – CS
Bus run 2. – LR
Other Suggestions/Comments
Be good if there was a bus that came via Forest Lake. – ALC
Logan Coaches: Too far out at present sorry. Closest Bus Stop would be Johnson Road.
My children get the bus to/from Mt Warren park. If this new bus route comes in, they will no longer be able to get the bus due to the major change in time. The bus route in effect now for my children is one of the main reasons they can go to Canterbury. It will take 1hr for them to get home instead of the 15mins it takes now on the bus which means they won't be able to attend their sports after school. This is not a good choice for those already using the service in Mt Warren Park. – KS
Logan Coaches: Bus 32 will still run through Mt Warren Park on the current Timetable, therefore no change here. The new Bus Route would only travel through Mt Warren Park enroute to Brookhaven Estate.
I am just emailing to put in my expression of interest into a possible future bus route in Greenbank. I'd love to be able to put my kids on the bus when they are old enough. – DB
Logan Coaches: Run 29 already services Pub Lane and surrounds. Could possibly be amended.
Would this be for Canterbury students only? – MD
Logan Coaches: Yes.
If you just send your kids to the nearest local school they don't need a bus. – CC
——————–
Again lastly, please spread the word on these THREE new bus routes, and help us grow our wonderful Canterbury community!
ROLLCALL SCHOOL BUS MANAGEMENT SYSTEM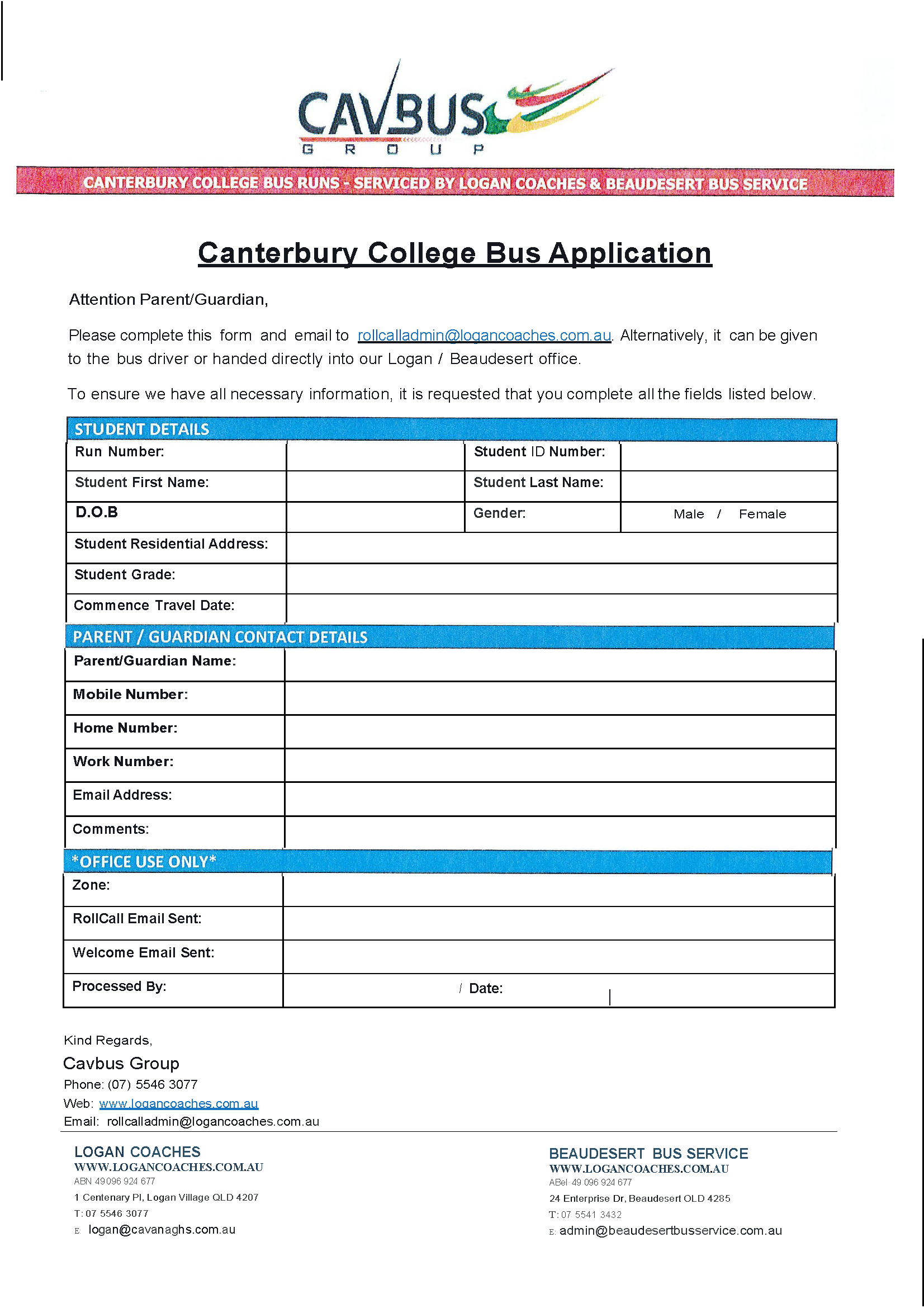 Digital Brochure – RollCall Bus Service – 4 Pages (PDF)
Digital Brochure – Why RollCall – 5 Pages (PDF)
RollCall Bus Service – Application Form – Logan Coaches & Beaudesert Bus Service (Word Doc)
RollCall Bus Service – Application Form – Logan Coaches & Beaudesert Bus Service (PDF)
RollCall Bus Service – How To Add Credit – Instructions (PDF)
RollCall Bus Service – Parent App Quick Guide – Password Download Functions Accessing Options (PDF)
RollCall Bus Service – Parent App Quick Guide – Welcome Login Functions Adding App Home Screen (PDF)
RollCall Bus Service – Sample Parent Welcome Letter – Logan Coaches & Beaudesert Bus Service (PDF)