Hephaestus  (huh-fee-stuhs) was the Greek God of fire, metalworking, stone masonry, forges and sculpture.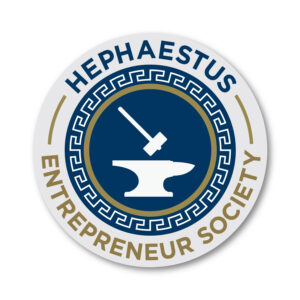 The Hephaestus Entrepreneur Society is named after this Greek God due to his two specific entrepreneurial skills of innovation and creativity.
The Hephaestus Entrepreneur Society seeks to educate, inspire and grow entrepreneurial interest by providing students with a foundation for experimental learning in a collaborative and supportive environment.
The ultimate goal is to enhance entrepreneurial skills and raise awareness, aspiration and knowledge about entrepreneurial ventures.
The Hephaestus Entrepreneur Society views entrepreneurs as practitioners who operate in social communities of practice.
Hephaestus supports students seeking opportunities to engage in social learning and create links to relevant entrepreneurial communities.
Students in the Hephaestus Entrepreneur Society will engage in established entrepreneurial programs, be mentored by Entrepreneurs In Residence, and have the opportunity to develop student-led entrepreneurial programs.
Hephaestus Entrepreneur Society membership is open to ALL students.
However, students who have participated in any Society program, automatically become members by virtue of their attendance.
External Programs