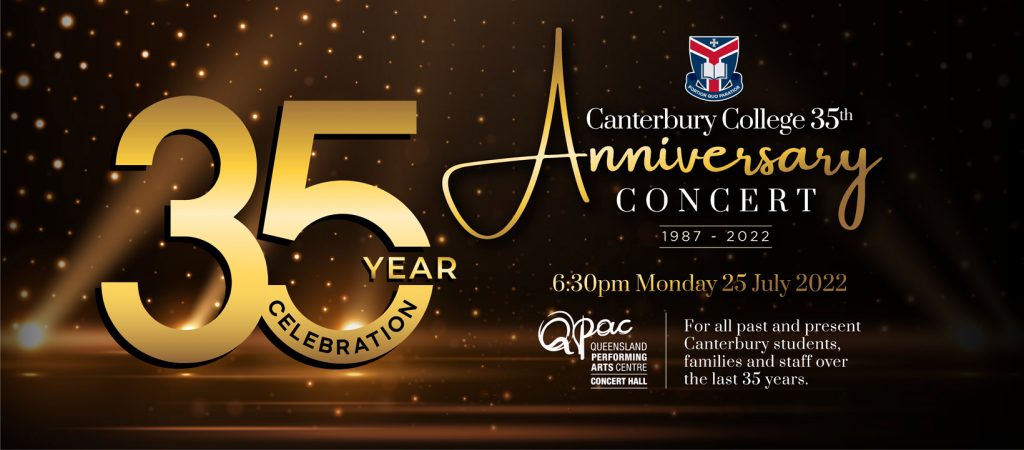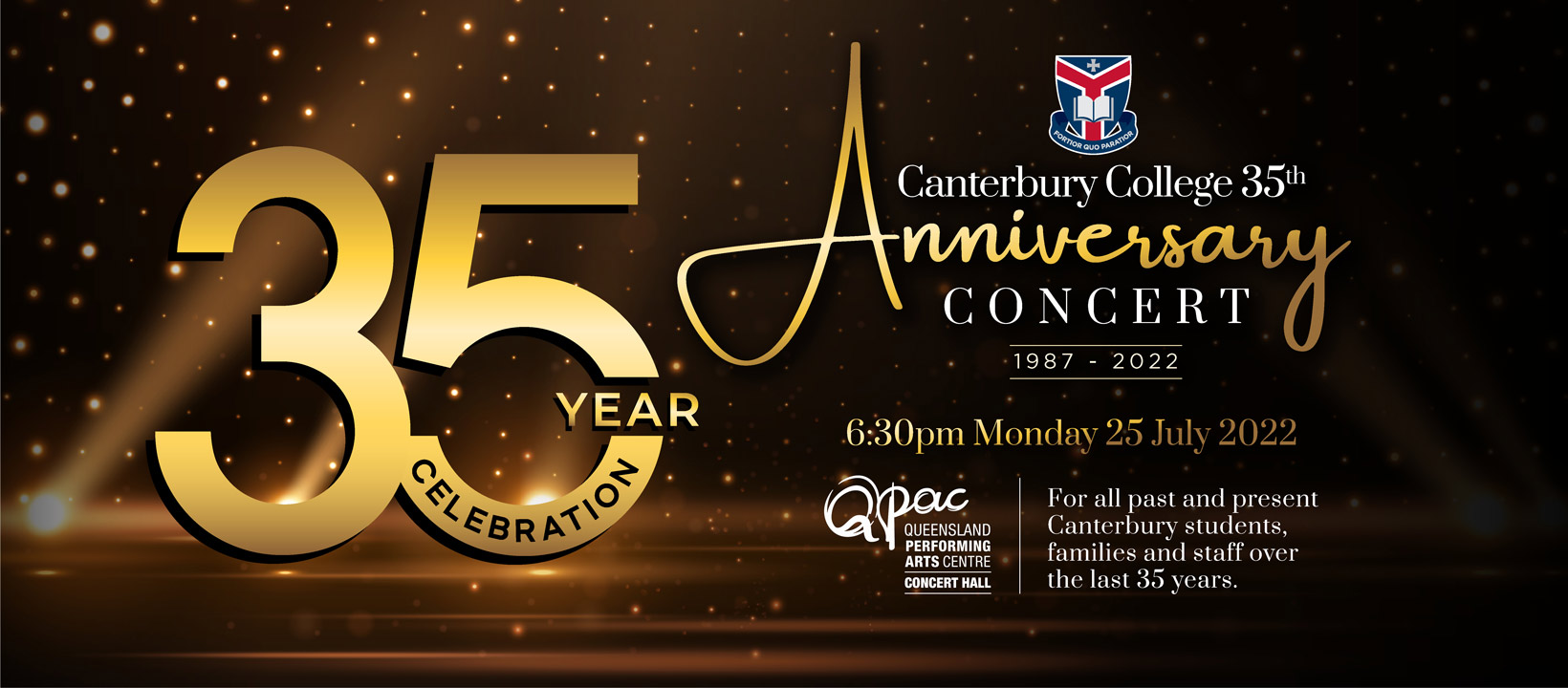 What: Canterbury College 35th Anniversary QPAC Concert!
1987 – 2022: Celebrating 35 years of wonderful education and memories…
When: 6:30pm – 8:30pm, Monday 25 July 2022.
Where: QPAC: Queensland Performing Arts Centre – Concert Hall.
South Bank, Brisbane CBD.
Who: For ALL past and present Canterbury students, families and staff over the last 35 years.
Dress Code: Formal / Business Attire.
Performers: Enjoy an evening of fine performances from our extremely talented alumni, alongside current student music and dance ensembles.
Ticket Costs*:
ADULT: Aged 17 Years & Over – $24 (inc GST)
CONCESSION: Pension & Senior Cardholders – $14 (inc GST)
CHILD: Aged 3 To 16 Years – $14 (inc GST)
NB: Children aged 2 years and under are FREE on the knee.
*QPAC's ticketing transaction fee of $7.20 also applies per transaction.
Selected ticket delivery methods may incur an additional charge.
***PURCHASE YOUR QPAC CONCERT TICKETS BY CLICKING HERE***
CURRENT CANTERBURY COLLEGE STAFF: The FIRST 50 current staff to email: Annie O'Gorman – Executive Assistant to the Principal, receive a FREE reserved seat ticket – 
Staff will need to purchase their tickets once this College allocation is exhausted.
Canterbury began teaching on Monday 2 February 1987 with 8 staff and 73 students across Years 6, 7 and 8.
Today, Canterbury's 238 staff service over 1,500 students across Kindergarten to Year 12, with 3,351 alumni behind them and counting.
So share this proud milestone event with us, as we look back over three decades of growth and evolution, while looking forward to the exciting journey ahead.
AND PLEASE SPREAD THE WORD TO ANY AND ALL OF YOUR CANTERBURY COLLEGE CONTACTS.
Performance Line-Up Program Details TBC.
For any enquiries or alumni performance nominations, please contact our Director of Music Dr Katrina Peddell: Email –   |  Tel – 07 3299 0877.