Principal's Tours
We warmly invite prospective families to join us for these FREE VIP 'small group' hosted tours with our College Principal.
Come visit our exceptional campus to see Canterbury teaching and learning firsthand.
Principal's Tour For Prospective Families: Secondary Enrolments Presentation – Canterbury's DNA
00:00 – Greeting & General Summary
03:43 – Our Entry Points: Prep, Year 5, Year 7 & Year 10
04:24 – Our Footprint: Where Our Canterbury Families Live
05:42 – Canterbury's DNA
12:30 – World Ready: Our College Mantra
13:26 – An Academic School
15:07 – Student Curriculum Choices
15:33 – Our House System: Student Pastoral Care
18:04 – Our Signature Programs
19:38 – TAS & Co-Curricular Sport
21:59 – Canterbury Education's Four Dimensions: Academics, Sport, The Arts, Service & Leadership
22:45 – Our Formula For Success
26:05 – Canterbury Campus Master Plan
What: Canterbury College Principal's Tour – Secondary Campus.
When: 8:45am Arrival For 9:00am Start – 11:00am Finish.
Date: ALL TOURS COMPLETED FOR 2023 | NEXT TOUR WILL BE TERM ONE, 2024.
Where: Tour Start & Finish Venue: Canterbury Functions Centre – Canterbury College.
– Entry via Sports Precinct Gate, 182 Old Logan Village Road, Waterford.
– Plenty of onsite parking available.
– Venue Location Map & Full Campus Map available upon request.
Who: For ALL prospective parents or carers and their children considering enrolling in Years 7-12 at Canterbury College in 2024-27.
Hosts: Principal Dan Walker | Deputy Principal Meagan King | Head Of Secondary School Rebecca Adamson | College Registrar Debbie Milne.
Features:
– Special welcome by College Principal Dan Walker with closing Q&A session.
– Delicious morning tea plus appreciation gift bag with college information.
– Family campus tour with our student leaders.
– A range of Canterbury staff available to speak with about ANY questions you might have.
– See our exceptional real-life teaching and learning firsthand, not an artificial Open Day experience.
Cost: FREE!
RSVPs: PLEASE REGISTER USING THE BOOKING FUNNEL BELOW.
Please Note: Numbers are capped to provide the best personalised tour experience.
Canterbury offers Personal Campus Tours if you are unavailable for the event or the Principal's Tour is booked out.
Dress Code: Adults – Smart Casual | Students – School Uniform.
Contact: College Registrar Debbie Milne – T: 07 3299 0822 | E:
Hurry – places normally book out quickly…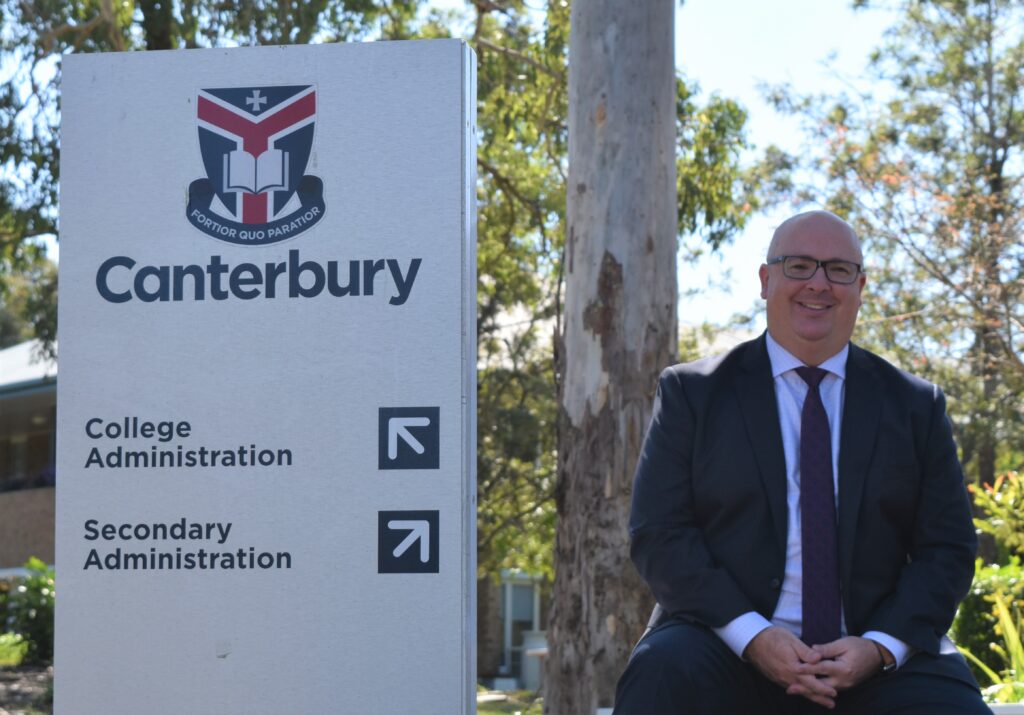 You can always visit us online 24/7 with our:
– Principal's Welcome Message Video
– Summary Introduction
– Virtual Tour Video Hubs
– Interactive Campus Map
– Parent Resources Weblinks