Year 12 Hospitality Take-Away Pasta Lunches – Monday 26 July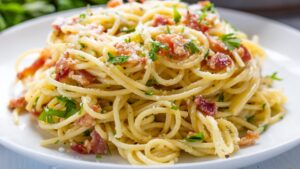 Dear Years 10-12 Students & Staff,
Our Year 12 Hospitality Class is making fresh pasta in their culinary masterclass!
So treat yourself to a delicious freshly made pasta lunch with a choice of two sauces:
Classic Fettucine Carbonara – $6.50 each
Rich creamy sauce tossed with smoked bacon, garlic and parmesan cheese.
Fettucine With Char-Grilled Vegetables In Rich Napoli Sauce – $6.50 each
Roasted cherry tomatoes with garlic, mixed with char-grilled eggplant and red capsicum, along with fresh basil in a rich tomato sauce.
Online orders can be placed by clicking this Humanitix weblink.
Pick-Up (Feasting!) Time: Lunchtime (Second Break) From 1:30pm, NEXT Monday 26 July 2021
Pick-Up Location: Canterbury Trade Training Centre Kitchen
Order Cut-Off Time: 4pm THIS Friday 23 July 2021
Thanks in advance for supporting this Year 12 Hospitality venture… and Bon Appetit!