Wishing you a MERRY CHRISTMAS and HAPPY NEW YEAR!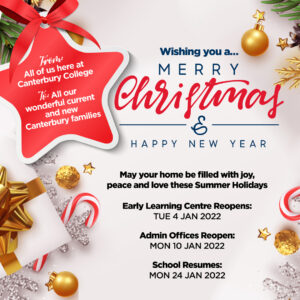 May your home be filled with joy, peace and love these Summer Holidays…
From: All of us here at Canterbury College.
To: All our wonderful current and new Canterbury families.
Key Campus Dates:
Early Learning Centre Reopens: TUE 4 JAN 2022
Admin Offices Reopen: MON 10 JAN 2022
School Resumes: MON 24 JAN 2022
See you in the new year everybody!