The Dark Side (Years 5-12) Canterbury Astronomy Club: Starts MON 21 FEB 3:30-5:00pm Secondary Library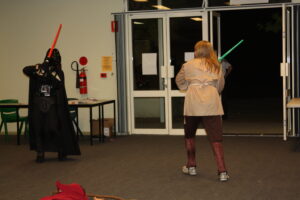 WHAT: Canterbury Astronomy Club – The Dark Side: FIRST MEETING!
WHEN: 3:30pm – 5:00pm, Monday 21 February 2022
WHERE: Secondary Library – Canterbury College
WHO: ALL Years 5-12 Students Most Welcome!
COST: FREE!
RSVP: Not Required – Please just attend on the day…
This club is a fusion of Astronomy and Star Wars themes.
We will explore the fascinating wonders of the universe and engage in lightsaber battles.
There will be Virtual Reality space travel, quiz competitions with chocolate prizes, star-gazing nights with telescopes, Star Wars movie marathons and planetarium visits.
And, as everyone knows, The Dark Side has cookies.
For more information, please visit our dedicated website by clicking HERE.