NEW Enrolments Open: Studio Lessons In Music, Dance & Drama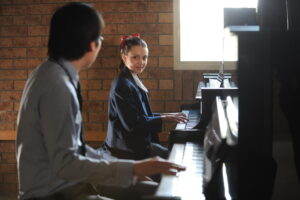 New enrolments are now being taken for students interested in Music, Dance and Drama Studio Lessons.
All Junior and Secondary School students are provided with the opportunity to have one-on-one individual or shared studio lessons in an area or areas of their choice.
These lessons are recognised as an important part of our Academic program, with lessons scheduled on rotating timetables throughout the College day.
This Studio Tuition Program is staffed by specialist instrument, voice, dance, speech, drama and communications teachers, who are committed to fully developing the abilities of their students.
For more information, including enrolment forms, please CLICK HERE.
Dr Katrina Peddell
Director of Music
Canterbury College