REMINDER: Year 10 Hospitality Takeaway Café – ORDERS CLOSE 5PM TODAY!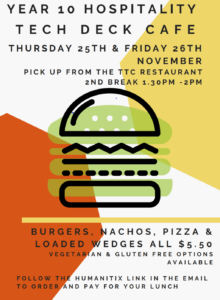 What: Year 10 Hospitality Takeaway Café – Delicious Lunches Available!
When: Lunch Second Break – Thursday 25 AND Friday 26 November 2021.
Where: Please collect your food order from the Trade Training Centre Restaurant – Canterbury College.
Who: For ALL Secondary School Students & Staff.
Menu Items: Beef OR Vegetarian Burger | Beef OR Vegetarian Nachos | Meat Lovers OR Vegetarian Pizza | Loaded Wedges with bacon, cheese & sour cream.
NB: Gluten-free options available.
Cost: ALL MENU ITEMS $5.50 EACH.
There are limited numbers for each menu item, so please order early to avoid disappointment.
YOU MUST PRE-ORDER + PRE-PAY NOW USING THIS WEBLINK HERE.
ORDERS CLOSE 5PM TODAY MONDAY 22 NOVEMBER 2021.
The Year 10 Hospitality classes are running this takeaway café next week and they would love to see you there.
Thanks for your lunchtime support!
Regards
Mrs Ingram & the Year 10 Hospitality Teams