Canterbury Dark Side Astronomy Club RETURNS IN 2022!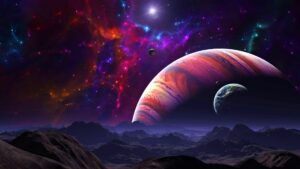 A long time ago, in a school not too far away, the Empire was strong…
Over 100 Canterbury students were on the Dark Side, and we were an irresistible force.
More recently, the Dark Side has been in the background, making preparations for a return.
Now… the Empire is ready to strike back!
Actually, the Dark Side is Canterbury's popular Astronomy Club.
And the club will be meeting again from next year.
Yes – every Monday after school from 3:30pm to 5:00pm in the College Secondary Library.
And ALL students from Year 5 to Year 12 are most welcome.
Our aim is to have some fun and learn a bit about the universe along the way.
These meetings will involve entertaining videos, news and astronomy topics ranging from the mind-blowing to the bizarre: supernovas, black holes, dark matter, relativity, Schrodinger's Cat, asteroid impacts and more.
As well as more normal things like Jupiter and quarks.
Then we will have follow-up activities such as: Internet research, model-making, quiz games with chocolate prizes, Jedi Knight training, and even lightsaber battles!
And everyone knows the Dark Side has cookies.
There will be events for the whole family too: star gazing with telescopes on the oval, a Star Wars movie marathon, a Brisbane Planetarium visit and family entertainment nights throughout the year.
BUT there's no need to do anything until next year…
Our first meeting will be on Monday 7 February 2022.
For more details and photos, please visit our website – darkside.m1maths.com
Then come to the Dark Side. It is your destiny… And we have cookies!