'Canterbury Health' Room & Courses: MONDAY DEADLINE!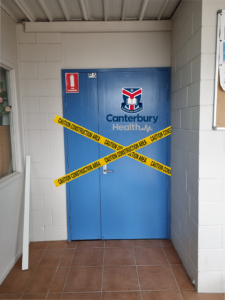 Dear Year 10 Students & Parents,
Construction of our dedicated Health Room for the new Canterbury Health program is now well underway (see photos below)!
This mini-hospital 're-creation' is located inside P Block and will be ready for use during the upcoming Term 3.
And with it, the Canterbury Health education program also launches next term for our Year 10 students interested in pursuing a career in nursing, medicine, allied health, medical research, or many other related health fields – a hugely expanding industry in the wake of the global pandemic and our ageing population.
Official course qualifications – containing both theoretical and practical components – will be conducted at Canterbury by Axiom College.
Axiom College will also support students to find external on-site practical experience at hospitals and medical centres etc, as well as conduct mock work interviews.
At the completion of this course, students will be qualified as Assisting In Nursing (AIN), meaning they can gain real-life employment in aged care, hospitals and doctors' surgeries.
The Certificate II and III courses are completed as a package. Students will attend the Canterbury Health course one day a week (Wednesday) in Terms 3 and 4 of 2021 and in Term 1 of 2022.
They will be required to catch up on any missed schoolwork as students will undertake this course above their regular subject load.
VETis funding from the Federal Government funds one Certificate II course for each student in Australia.
There is an additional cost to complete the full qualification including the Certificate III course.
The cost will be $700 paid across three terms: $250 in Terms 3 and 4 this year and $200 in Term 1 next year.
Expressions Of Interest MUST be submitted to Ms Bre Ramsay-Orr by 4:00pm THIS Monday 12 July 2021 by completing this form – Expression Of Interest – SBAT External Course Form – Canterbury Health.
IMPORTANT: The Subject 'Results' column on this form can remain blank while Semester 1 Reports are still being finalised.
More information about the qualifications can be found below:
https://training.gov.au/Training/Details/HLT23215 – Certificate II in Health Support Services
https://training.gov.au/Training/Details/HLT33115 – Certificate III in Health Services Assistance
Should you have any questions, please contact either:
Ms Bre Ramsay-Orr
Director of Student Futures
Canterbury College

OR
Mrs Rebecca Adamson
Head of Secondary School
Canterbury College