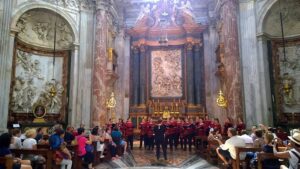 Canterbury Cantabile: Memories Of Italy 2016
This time, five years ago… Canterbury Cantabile – The Passion Of Italy Festival Tour.
Lots of fabulous music, food, friendship and the beautiful sights of historic Rome, Florence and Venice.
We sang in amazing venues: In Rome – Mass in Saint Peter's Basilica, our own concert in Sant' Agnese Church in Agone, our festival concert in Basilica di Santa Maria degli Angeli – and today marks that festival performance there which was repeated in Pisa.
Included in the performance and travel photos is even one of the posters advertising our actual concert in Venice – which we found while walking around.
Looking forward to one day touring again!
Hurry up and finish COVID-19…
Katrina Peddell
Director of Music
Canterbury College