2021 Junior School Speech Day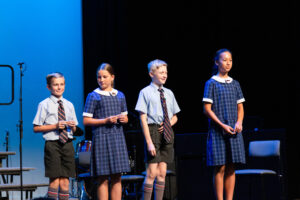 Our Junior School Speech Day was held on Tuesday morning 30 November at our Canterbury Events Centre.
We recognised and celebrated the achievements of our younger students from Years 3 to 6.
We also had several special guests who attended the ceremony namely:
Aunty Julie Foster Smith – Kalkadoon / Kalkatunga Country Woman, Elder and Educator
Father Dan Talbot – Rector of Jimboomba Anglican and Area Dean of Logan
Father Geoff Hoyte – Rector of St Mark's Anglican Church, Daisy Hill
Vanessa Gamack – Anglican Schools Commission
Mr Jeff Thomas – Chair of the Canterbury College Board
Congratulations to the following award recipients:
Outstanding Approach To Learning Award – presented to the top 5% of students who may not have received an Academic Excellence Award, but who have demonstrated outstanding work habits and approach to learning.
Year 3 – Grace Brown, Harrison Hall, Agatha Johnson, Sahibpreet Kaur, Sienna Neilan.
Year 4 – Leah Choi, Sarah Clarke, Violet Du, Arista Ebenezer, Hayley Lim.
Year 5 – Mia Bell, Charlotte Bull, Amara Caeiro, Sarah Dunn, Hasrat Maan, Eloise McKean, Lyla Ries, Alec Wylie.
Year 6 – Isabella Franklin, Tia Hardgraves, Brooklyn Pukallus, Hayley Schoeck.
Academic Excellence Award – presented to the top 10% of students in each year level based on their combined academic results.
Year 3 – Archer Alchin, Sophie Ayres​​​​​​​​​​​​​​, Haeun Bae​​​​​​​​​​​​​​, Pegella Beh​​​​​​​​​​​​​​, Lelia Dong, William Flaxman​​​​​​​​​​​​​​, Johnathan Hang, Yulia Kovalev, Isla Rickard, Nikhil Srinath, Max Suckling, Archer Thiel-Paul.
Year 4 – Lachlan Cole, Mckynlee Franklin, Indie Godfrey, Jacob Hallmann, Coda Lahrs, Quinn Lockhart, Tanvi Mongia, Revin Ngendakuriyo, Lily Prewett, Kavin Velu.
Year 5 – Anshuman Bharti, Arabella Carr, Sienna Crawford, Bronte Currie, George Li, Charli List, Banjo Newton, Mujtaba Shah, Summer Teece, Leonamia Toon, Finn Watt.
Year 6 – Amir Al Shoomary, Lincoln Crooks, Matthew Flaherty, Eliza Flower, Joel Jung, Prabhnoor Kaur, Amelia Neumeister, Angelina Pao, Penina Pao, Rose Pincott, Taylor Wheatley.
First In Subject Award
First In Science – Lincoln Crooks
​​​​​​​First In Humanities and Social Science – Matthew Flaherty
​​​​​​​First In Mathematics – Matthew Flaherty
First In English – Amelia Neumeister
First In Spanish – Angelina Pao
First In Health And Physical Education – Archie Watt
Speech Day Gold Badge Recipients – the highest all-round honour and points are accumulated over the years. These badges can be worn on students' ties in Year 7 to recognise their Junior School achievements.
Isabella Franklin, Lincoln Perry, Tiffany Tindall, Finn Watt.
2021 Caring for Country Award
Year 3 – Pegella Beh
​​​​​​​Year 4 – Alex Leang
​​​​​​​2021 Junior School Arts Person Of The Year – Maya Lee
2021 Junior Sportsperson Of The Year – Finn Watt
2021 Junior Sportsmanship Award – Isabel Millard
2021 Beenleigh Rotary All Rounder – Amelia Neumeister
​​​​​​​2021 Dux Of The Junior School – Matthew Flaherty​​
The full Facebook Album photo gallery can be found at THIS WEBLINK HERE​​​​​​​.​​​​​​​​​​​​