2021 Battle Of The Rock Bands Competition – '21 Laneway' Wins Gold!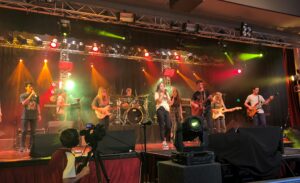 Last night Canterbury Rock Band 21 Laneway performed at the 2021 Battle of the Rock Bands competition hosted by Clairvaux MacKillop College.
Despite the high standard of the ten bands that competed, 21 Laneway 'blew the roof off' as the final band to perform live on stage.
And they emerged victorious winning the Gold Award!
2022 Arts Captain and current Year 11 student Nathaniel Harris also received the award for Most Outstanding Rock Musician of the night!
Double Boom!!
It was fantastic to see the number of Canterbury parents, students and alumni that came out to support our students at the event in the crowd.
The whole band came away buzzing after an action-packed evening, and they look forward to performing at more events such as our Sports Awards Evening and Spring Music Festival later this term.
Rock On Canterbury… and 21 Laneway!
Regards
Mr Simon Lane
Teacher