Volleyball QLD Year 12 Schools Cup Results 🏐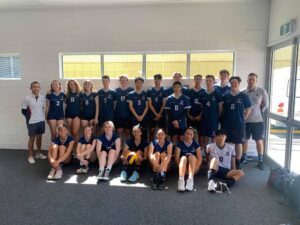 Our Open Boys and Open Girls competed in the Volleyball Queensland Year 12 Senior Schools Cup over the long weekend from 2-4 October.
These teams were comprised of Years 9-12 students who were willing to take on the challenge of playing in the Honours division – i.e. battling against the 'best of the best' Year 12 teams across Queensland.
The Honours competition is selection-based and requires schools to meet a criterion upon entry.
Our recent success and improvements throughout the TAS competition, and previous performance history in the Schools Cup, allowed us entry into the Honours level of this competition.
As it was our first time competing in the Open Honours category, there were understandably plenty of nerves in the lead up to the competition.
With big names such as Craigslea, Kelvin Grove, Benowa and Capalaba – just to name a few, the Canterbury Taipans put in their best efforts to do the school proud.
Although the contest was tough, our Taipans stepped up across the board and did not disappoint.
The honesty, resilience and integrity of all our players throughout the long weekend was evident, as they bounced back from bigger and faster opponents, to notch a few wins under our belt.
With the Boys finishing in 6th place and the Girls finishing in 8th place, the Taipans volleyballers made a mark on the Honours competition, with many schools surprised at our debut performance high standard.
Congratulations to all our athletes over the weekend! 🐍🏐
Mr Andrew Porter
Teacher