Tim Li's Triumphant Trio – Music To Canterbury's Ears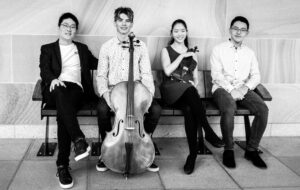 Last Sunday, Canterbury's wonderful Coordinator Of Chamber Music Mr Tim Li, and the piano trio he teaches outside school hours – Amogus Trio – were announced as the winners of Strike A Chord 2021.
This talented trio was awarded the Robert Salzer 1st Prize worth $5,000, as well as two special prizes that include an invitation to perform at the 2022 Bendigo Chamber Music Festival, plus a 12-month music mentorship in Melbourne.
Musica Viva's Strike A Chord is Australia's largest and most important national chamber music competition for Secondary School ensembles, and 2021 saw more than 100 ensembles across Australia entering.
The jury panel comprised five of Australia's leading performers and educators.
So in short, if your children are in Mr Li's class… they are in excellent industry-leading musical hands!