3:00PM WET WEATHER UPDATE: Talking Taipans – Episode 11, 2022 🐍 With Catherine Krzensk & Ben Maxfield
🚨🚨 NEWS FLASH: 3:00PM FRIDAY 20/05/22 🚨🚨
Please be advised of the following changes for TAS and Junior TAS fixtures THIS Saturday:
Rugby: CANCELLED (TAS & JTAS)
Hockey: CANCELLED (TAS)
Tennis: Final decision to be made 6:00am Saturday morning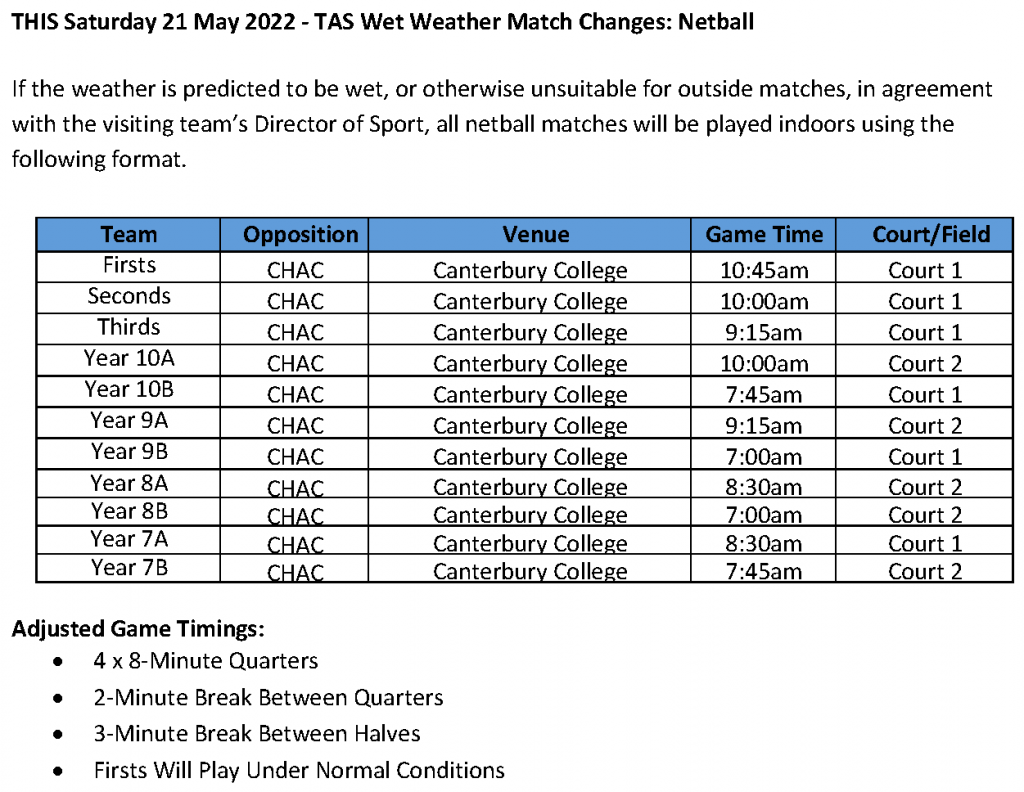 It's time for a 'CHAC ATTACK' on Home Ground! 🐍⚡️
And 'Home Round' means that our Canterbury Sports Supporters BBQ is back.
Please sign up HERE if you can assist for 30 minutes or so, as we really need more volunteers – THANK YOU! 🍔🌭🥤
Alternatively, you can email Mrs Catherine Krzensk –  OR Mrs Yvette Peterson –  (Canterbury Sports Supporters Group Organiser) directly, or join the Canterbury Sports Supporters Group on Facebook.
Good luck to all our athletes competing in this weekend's fixtures, as well as our Junior TAS Cross-Country and Vicki Wilson Cup Netball teams who are competing today (Friday)! 🏃‍♀️🏃🏃‍♂️🏐
Well done also to all our Taipans who represented Canterbury at the TAS Cross-Country yesterday over at Ormiston College. 🏃‍♀️🏃🏃‍♂️
PS: Don't forget about our Canterbury Second-Hand School Uniforms Buy Sell Swap Meet happening in the Canterbury Functions Centre (was called the Trade Training Centre) on Saturday morning too from 8:00am – 11:00am.
As always… Go Taipans! 🐍
https://youtu.be/gJtD56xsbeA