Stephanie Alexander Kitchen Garden: Bush Tucker Garden Planting Day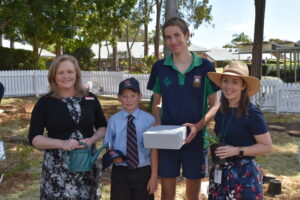 Our Years 11 & 12 Temple House 
 students and Years 3 & 4 Junior School students mixed their class time with The Dreamtime 
 at our Stephanie Alexander Kitchen Garden Bush Tucker Garden Planting Day last week.
All the students rotated between three stations…
Station 1: Planting Bush Tucker Plants with Mr Penny.
Station 2: Painting Clay Turtles with Aunty Desley.
Station 3: Discussing Bush Tucker Plants & Dreamtime Stories with Aunty Julie.
Councillor Laurie Koranski from Logan City Council attended the event and had a taste (literally) of what our Bush Tucker Garden had to offer! 
Check out all the photos from the big day via our Canterbury Facebook Album – 2021 Bush Tucker Planting Day.