Two of our Canterbury students are in this Queensland Youth Symphony:
Lucia Hughes (Year 12)
Emma Masterman (Year 11)
How cool is this?
And read those stats down in the post too!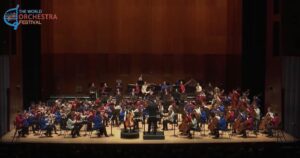 Queensland Youth Symphony Wins Gold 
A couple of months ago, Queensland Youth Orchestras submitted a video of the Queensland Youth Symphony (QYS) performance in March of the Dvorak Cello Concerto to be part of the Online World Orchestra Festival.
We are delighted to announce that QYS won a Gold Award for this performance, one of only two Gold awards given to youth orchestra performances.
Watch the QYS performance here – https://www.youtube.com/watch?v=txwM0nqm4SM (time code 1:31:26)
Watch the World Orchestra Festival Closing Award Ceremony here – https://www.youtube.com/watch?v=XV0CV_OKdDo&t=318s (time code 57:15)
A few statistics from the World Orchestra Festival Facebook page:
*Over 140 orchestras from 33 countries around the world submitted videos for this event.
*There were 7 global live streaming platforms, 20 million votes and 60 million site visits.