Our Yalburru Café: This Week's Tasty Specials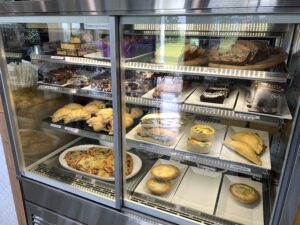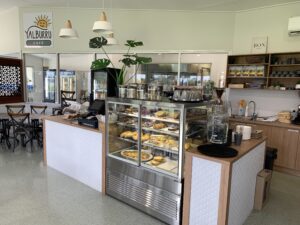 From this week, Yalburru Café Manager Mr Colin Mason and a Year 12 Hospitality student are baking food freshly for the Café!
Today's (already heavily plundered at Morning Tea) specials include:
Satay Chicken Pies
Beef & Cheese Pies
Triple Mushroom Pies
Traditional Cornish Pasties With Cheese
Pumpkin, Spinach & Fetta Quiches.
All our pastries and fillings are made on-site.
We use a traditional Italian style pastry made from olive oil, rather than butter, and there is no sugar in our pastry dishes.
Beef, Rocket Lettuce & Double Cheese Pizza Breads
What does contain sugar on our café menu?
Chocolate Rocky Road Slices
ANZAC Slices
Chewy Chocolate Slices
NB: Yalburru Café – NOW OPEN 7:30AM UNTIL 12:30PM WEEKDAYS!