Next Artist Generation Celebrated At Logan Art Gallery – Including Gemma King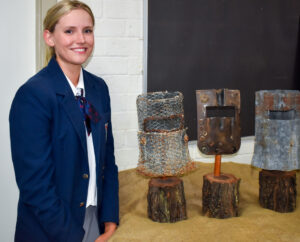 A legendary Australian bushranger has been re-created in chicken wire, bark and scrap metal pieces for a Logan Art Gallery exhibition.
Canterbury College's Gemma King's artistic portrayal of notorious outlaw Ned Kelly is part of the annual Artwaves 2021 exhibition.
Artwaves, featuring 241 students from 30 secondary schools in Logan and adjacent areas, will run from this Friday 10 September to Saturday 16 October 2021.
The gallery will be filled with an array of paintings, sculptures and digital works.
Gemma, a Year 12 Canterbury student, created three copies of Kelly's infamous helmet.
The helmets are designed to convey his roles as a son, a criminal and an Australian icon of resistance.
Each year, Artwaves celebrates the creative excellence of young artists in the region.
It also acknowledges the contribution made by teachers and parents to nurture student creativity and develop the next generation of local artists.
Artworks have been selected by a committee of Logan Art Gallery staff and visual art teachers from participating schools.
City Lifestyle Committee Chair, Councillor Laurie Koranski, said the students had once again delivered some amazing works for the 29th annual exhibition.
"I encourage the community to visit the gallery and see the students' creativity for themselves," Cr Koranski said.
"Some eye-catching and thought-provoking pieces have been produced by these extremely talented emerging artists."
Visitors to the gallery during Artwaves can vote for their favourite artwork.
The artist with the most votes wins a prize from sponsors School Art Supplies, Oxlades Art Supplies, Buckham School Supplies and Eckersley's Art & Craft.
Visit logan.qld.gov.au/artgallery or follow the gallery on Instagram.
Logan Art Gallery staff will also select a packer's prize award.
The gallery is open from 10am to 5pm from Tuesday to Saturday and entry is free.
Schools represented in Artwaves include:
• Beaudesert State High School
• Beenleigh State High School
• Browns Plains State High School
• Calamvale Community College
• Calvary Christian College
• Canterbury College
• Flagstone Community College
• Groves Christian College
• Hills International College
• John Paul College
• Kimberley College
• Kingston College
• Loganlea State High School
• Mabel Park State High School
• Marsden State High School
• Ormeau Woods State High School
• Park Ridge State High School
• Parklands Christian College
• Redeemer Lutheran College
• Rivermount College
• Rochedale State High School
• Runcorn State High School
• Springwood State High School
• St Francis College
• St Thomas More College
• Stretton State College
• Sunnybank State High School
• Trinity College
• Windaroo Valley State High School
• Woodridge State High School
Photo Caption: Canterbury College student Gemma King with her Ned Kelly-inspired work which features in the Artwaves Logan and adjacent areas Secondary Schools art 2021 exhibition.