MUST READ: Canterbury College Full COVID Update – MON 9 AUG 2021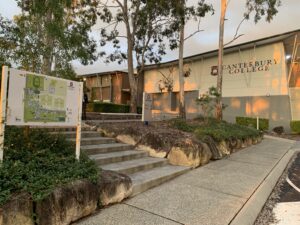 Dear Canterbury Parents & Carers,
I'm certainly pleased today to be writing to you in the knowledge that things will be somewhat back to normal when school returns tomorrow Tuesday 10 August.
I have observed that our home learning programs have been successful again, but nothing is ever as good as face-to-face contact between a teacher and their students.
To parents and carers of our youngest students, thank you again for the time you would have spent sitting alongside your sons or daughters last week guiding them through their learning resources.
Here are some updates based on the most recent communications from the Public Health Directive and clarifying material from Independent Schools Queensland that I have received.
Mode Of Instruction
When classes resume tomorrow Tuesday 10 August, we will not be offering dual learning modes.
All classes will be on campus, involving face-to-face instruction.
Some exceptions may apply if the teacher has been ordered to stay in home quarantine if they were potentially exposed to COVID-19.
In these situations, either another teacher will be allocated or the teacher will direct learning through online lessons, with students supervised in a classroom by a relief teacher.
Face Masks
All college staff and all secondary students from Year 7 upwards must wear face masks at school.
This is not a school-based stipulation – it is a specific requirement of the most recent Public Health Order from the Queensland Government to schools.
Younger Junior School students are of course welcome to wear masks, but this is not yet a Chief Health Officer stipulation.
Masks can only be removed to eat or drink, or when exercising or playing sport.
Masks are not for sale at the school – students will have to bring their own each day.
If parents wish to seek an exemption from their child wearing a mask at school, medical documentation from a GP or specialist is the easiest way of dealing with this.
Parents who do not agree with the Public Health Directive should not take issue with the College's stance.
My suggestion is that you contact Queensland Health directly to express your views.
Co-Curricular Activities
Music ensembles cannot gather and rehearse during the upcoming period, although studio lessons will resume from Monday.
TAS and JTAS weekend sport has been cancelled for the next two rounds, but training will continue during the week.
Planned sport activities in the Junior School will continue, with instructors wearing masks and also social distancing. All PE lessons will continue as normal.
Queensland's Chief Health Officer advised she is happy for sport to be undertaken within schools, because children have already been together in class at school.
However, there is no community-wide sport for the next two weeks – including any sport that brings different groups of children together from different schools, or different parts of Logan or Brisbane etc.
Excursions And Outdoor Education
Any excursions or outdoor education trips planned for the next fortnight have been cancelled.
In some cases, staff are looking at re-booking for later in the year if possible.
School Assemblies, Concerts And Mass Gatherings
We have cancelled all school assemblies, concerts and mass gatherings that were programmed for the next three weeks – including our major Saturday 21 August College Festival.
I am pessimistic about the prospects of mass gatherings being reinstituted before the end of term.
We will keep Year 12 students and parents informed about whether some changes will need to be made to the Formal at City Hall on Tuesday 14 September 2021.
At time of writing, we are unsure whether the United Nations Day celebration planned for Thursday 26 August 2021 can continue in any form. A decision will be made in the next few days.
School Canteen And Yalburru Café
Our Canteen and Yalburru Café will open as normal from tomorrow, with regular menus.
We will ensure social distancing is employed where possible in the queues for these services.
Canterbury Taipans Athletics, Swimming And Tennis
Programmed lessons for most participants in Taipans tennis, swimming or athletics will re-start from tomorrow.
Tiny Taipans 'Learn To Swim' classes will also resume tomorrow, with some expectations that parents will be required to wear masks and socially distance when waiting to pick up their children.
At this stage, only Canterbury families (i.e. current students and their siblings in the same household) can take part in Taipans Club sport or 'Learn To Swim' lessons.
Tennis lessons and court hire can only be undertaken – in line with Tennis Queensland directions – with members of the same household, which will severely limit the amount of tennis that can continue over the next fortnight.
COVID Vaccinations
A healthy percentage of Canterbury staff have already been fully or partially vaccinated for COVID-19.
The College is investigating ways of increasing the vaccination rate of those staff who have not yet been eligible.
I welcome the State Government's commitment to fast-tracking school staff through the vaccination waitlist process.
Once vaccinations for 16-18 year-olds have been sourced, we will look at ways of offering a service to students onsite here at Canterbury.
But it may be that this will be facilitated at a central mass venue by the State Government, in a similar fashion to New South Wales, but we will keep families abreast of this issue.
ELC Playgroup
ELC Playgroup is cancelled until we have received an 'all clear' message from Playgroup Queensland.
They will provide their official update this Friday 13 August 2021 at the latest.
Drop-Offs And Pick-Ups
Parents and carers are asked to please drop-off and pick-up all Junior School students, and not come on campus, and not congregate around college exits or entrances.
This is as per the Chief Health Officer's Public Health Directive.
Student Diary Holidays Listing Error
Finally, I hope all our students enjoyed today's Logan Local Government Area Show Holiday, despite the actual Brisbane EKKA Show being postponed until later in the year.
Whichever new public holiday date the Brisbane Local Government Area now chooses for its own region, will not apply to Logan or Canterbury College, with today's public holiday in place – as we advised last week on all channels.
Any student diary entry showing a public holiday or student-free day listed for tomorrow Tuesday 10 August or this Wednesday 11 August should be ignored as printing errors.
Let's continue to be safe and strong and make these lockdowns a thing of the past…
Mr Dan Walker
Principal
Canterbury College