Mainfreight Industry Partnership – Canterbury Student Employment Opportunities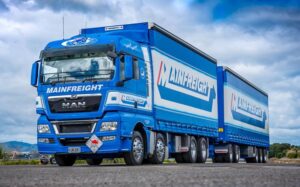 Dear Students and Families,
Mainfreight is a global leader in the transport and freight industry, and excitingly, ​​​Canterbury College has been chosen as their partner school for engagement and employment opportunities in Australia.
This is a wonderful opportunity and has been awarded to us due to the outstanding achievements, significant career progression and employment success of former Canterbury College students.
So Mainfreight would like to offer a kick-start to Canterbury students seeking a career pathway in the transport and supply chain industry.
Location: Mainfreight Transport – Larapinta, QLD.
Work Type: Casual.
Hours: 3 x 4 hour shifts per week for total 12 hours per week.
Mainfreight is open to negotiating days and start times to suit each student's needs from Mondays to Fridays 4:00pm – 10:00pm and Saturdays 7:00am – 12:00pm noon.
Eligibility: Australian Citizen or Permanent Resident.
Own Transport: Students will need reliable transport, either their own vehicle or a parent/guardian who can drop them off and collect them, as public transport is not accessible to Larapinta.
Application Process:
Students will be contacted via phone for an interview.
Mainfreight will need to complete pre-employment drug & alcohol testing and police checks before commencement, should you be successful.
Remuneration: Students will be paid the award rate applicable to their position under the Road Transport & Distribution Award 2020.
The Role:
The role will be hands-on and based around the Afternoon Shift initially, where students will learn the operations from the ground up.
They will begin by learning how to scan, check and sort freight and the process involved in loading and unloading interstate line-haul and local pick up units.
For students who are interested in gaining their forklift license, Mainfreight will also assist them in this.
Should the students enjoy their experience and wish to continue over the holidays, Mainfreight is open to offering extended hours between 4-8 hours, for up to 5 days a week.
They are also mindful that around exam times, students would not be able to work 3 shifts, so they are open to being flexible with those dates to accommodate these studies.
Career Pathways:
As Mainfreight believe in promoting from within, once the students have a complete understanding of the PM shift – after graduating and are available full-time – there are many internally advertised opportunities they can pursue across their Transport, Warehousing & Air & Ocean Divisions, including operations, sales and administration.
This is a great school – industry partnership with a world-leading company.
So please don't hesitate to get in contact with any questions.
Kind regards