Junior School | Term One, Week 3: Weekly Wrap Up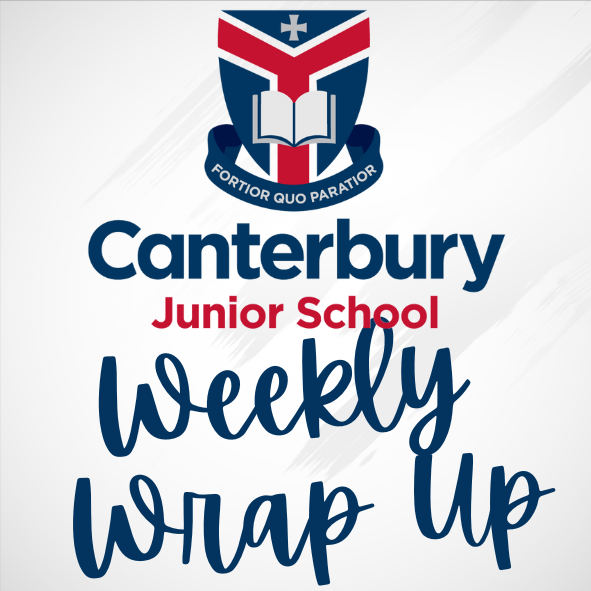 Dear Parents and Carers,
This week our Prep families took advantage of the free Vision Screening Program provided by Queensland Health, our swimmers competed at the Beenleigh Zones Carnival, and many parents attended our Reading and Volunteer Induction Information Sessions.
I also enjoyed meeting some of our new students in Years 2, 3 and 4 while sharing lunch and some stories.
Our 2023 Canterbury Theme
Throughout 2023, our students, staff and the wider Canterbury community are invited to engage with the theme: A Community of Kindness.
Staff participated in workshops during the January Student Free Days, focusing on defining kindness and sharing strategies for ensuring kindness is embedded in all of our interactions with students, colleagues, families and the wider community.
Students are being introduced to the theme via Assemblies and in classrooms, and will investigate the scientific research around kindness and its effects, and work on incorporating kind thoughts and acts into their daily lives.
Research has proven that a little kindness goes a long way – both for the giver and receiver, so we intend that a wave of goodwill will travel across the campus throughout 2023, improving the quality of life and learning for all.
Carpark Safety
With kindness in mind, I ask that all drivers focus on the safety of our students when navigating our carparks.
I have received reports recently of near misses from cars moving too quickly, not reversing safely, or double parking to allow students to exit and enter cars.
Please ensure that safe driving practices are in use at all times – thank you!
School Canteen – MyStudentAccount
Canterbury operates a cashless campus, allowing students to store funds on their ID Cards via the external provider MyStudentAccount.
For students in Prep – Year 2, parents use this account to pre-order lunch from the canteen for delivery to classrooms.
For older students, the ID Card is used at the Canteen to make purchases.
For this reason, please ensure that students in Years 3-6 have their ID Card with them every day.
It is also used for students to access printing.
A MyStudentAccount How To Guide has been published and can be accessed via this link here: WEBLINK.
Please Note: To access documents stored on MyCC, you must be logged in as a parent using your Parent ID and Password.
Following a weblink received in an email will require logging in.
This may be blocked by some WiFi firewalls, so if you are experiencing difficulty with links, please navigate directly to mycc.qld.edu.au and follow the login process to access documents.
For any continuing issues, please contact our IT HelpDesk via their email – 
Personal Sports Equipment
Balls for play are provided to students on the Prep – Year 2 Meadow, and from next week on the Junior School Oval during break times.
For this reason, I ask that students no longer bring their own balls from home for use during the day.
Prep – Year 2 Drop-Off Processes
A reminder that drop-off zones can be found in the High Road and Easterly Street carparks.
These zones are not for parking, but rather for parents to remain in their cars while students exit and walk into campus.
Now that all students are familiar with their classrooms, teachers, classmates and playgrounds, we strongly suggest that parents who choose to walk their children to their classrooms, develop the habit of a quick 'Kiss & Go' strategy.
All students are now capable of locating the items they need for their day and laying them out in the lining up zone, locating their friends, and moving to the play areas where they are under staff supervision.
Thank you for your cooperation in this area, as we work together to develop the independence of our young learners.
Open Classrooms
As mentioned last term, this term each year level will run one Open Classroom per week.
This means teachers will be in their classroom from 8:10am until 8:25am one morning per week, and parents are welcome to come into the classroom with their children, to look at the displays and view student work.
This is a time for your child to show you what they are learning in class, and how they are going about the learning.
If you would like to speak to your child's teacher, please make contact with them by email to arrange a time for a one-on-one conversation.
| | |
| --- | --- |
| Year Level | Day (8:10am – 8:25am) |
| Prep | Friday |
| Year 1 | Friday (1JOW Thursday) |
| Year 2 | Friday |
| Year 3 | Thursday |
| Year 4 | Thursday (4THH Monday) |
| Year 5 | Tuesday |
| Year 6 | Friday |
OSHC Opening Hours From 6:30am
Following feedback from our community, I am happy to announce that as of Monday 20 February, our OSHC: Outside School Hours Care service will be open for Before School Care from 6:30am.
Information regarding the service, as well as links to register and book, can be found on the OSHC MyCC Page Here: WEBLINK.
Partnership Article
We all use Mathematics every day, and mathematical skills help children understand and experience the world around them.
In early childhood, children develop mathematical skills by manipulating and playing with objects, and become acquainted with shapes, numbers and descriptions of objects.
In this week's Partnership Article, there are a number of easy and fun strategies you can use to help your child develop their mathematics skills – Article Weblink HERE.
Upcoming Events
| | |
| --- | --- |
| Saturday 11 February | Junior TAS Round 2 |
| Monday 13 February | Pacific District Swimming Carnival |
| Thursday 16 February | Years 6-12 House Breakfast: Becket and Goldsworthy |
| Friday 17 February | Years 6-12 House Breakfast: Cranmer and Kime |
| Saturday 18 February | Junior TAS Round 3 |
I wish our young sports people luck for Saturday's Junior TAS Round and look forward to seeing all students next week…
Yours faithfully
Michelle Leftwich
Head of Junior School