Junior School | Term One, Week 2: Weekly Wrap Up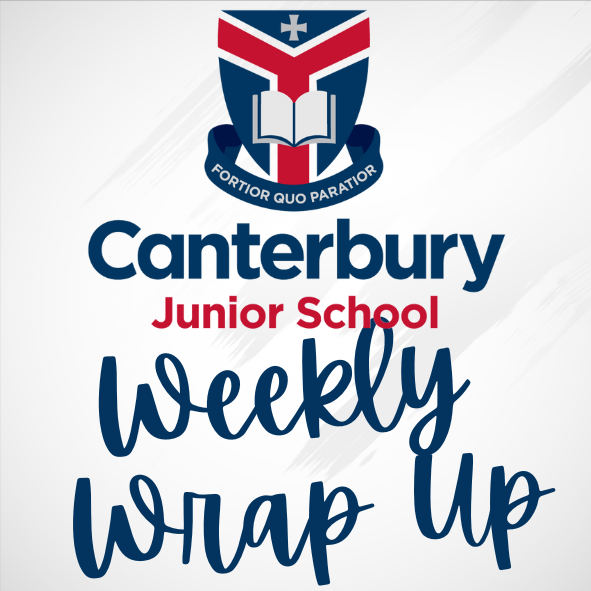 Dear Parents and Carers,
We have enjoyed a full five-day week this week, which has certainly helped students settle into the routines of the school.
I am so proud that so many students are working on their independence with packing and carrying their own school bags, walking in on their own, unpacking their materials and getting ready for the day ahead. Well done!
This week I began lunchtime meetings with our new students, getting to know some of our Year 2 students.
Over the next two weeks, I will spend some time with each of the students who are new to Canterbury this year, listening to their experience as newcomers.
Parents On Campus
A reminder that if you are entering the campus after 8:45am, or before 3:00pm, you are required to check-in at the Junior School Administration Office before making your way to your child's classroom.
For the safety of our students, any non-staff seen on campus during the day can expect to be questioned by staff regarding their visitor status.
Parents who have signed in at Administration will receive a Visitor Pass that is to be displayed clearly.
Therefore, I kindly ask that parents remain in their cars if they arrive on campus before 3:00pm for pick-up.
Classes are run up until 3:15pm each day and parents waiting outside the classroom before 3:00pm can be very distracting for our young learners.
Next week, staff will be respectfully asking any parents waiting outside classrooms before 3:00pm to return to their cars or wait in the pick-up zones.
A reminder that staff operate efficient pick-up processes in both the Easterly Street and High Road carparks.
So to foster student independence, we encourage all parents to utilise these services and allow students to make their own way to the pick-up zones.
If you are arriving late or requiring your child to leave early, you must visit the Junior School Administration and sign your child in or out.
Please do not go directly to the classroom, or wait for your child to come to you in the carpark during the school day.
Parent Information Session
Thank you for attending our 2023 Parent Information Evening on Tuesday night.
It was wonderful to have parents and carers onsite receiving information to assist with planning and preparing for the 2023 school year, and to provide an opportunity to meet staff and other Canterbury families.
Some key messages addressed include:
Importance of your child's village working in a mutually trusting partnership for the best outcomes for students
Communication methods
Open communication (even if tricky)
Uniforms
Nightly reading
Arrival on time
Healthy lunchboxes
Minimal student absences
Open mornings
Independence
And of course… Class work
Information presented during the evening in the form of Year Level Handbooks, Year Level Presentations and my own presentation can be found on the Junior School and Year Level MyCC pages.
'It Takes a Village' Partnership Program
We are excited to start our 'It Takes a Village' Partnership Program for 2023.
The evenings scheduled for this term are below:
Supporting My Child With Reading (Prep – Year 2) – Tuesday 7 February 8:45am or Thursday 9 February 2:15pm
Volunteer Induction – Thursday 9 February 2:45pm or Friday 24 February 8:45am
ThinkUKnow – Wednesday 8 March 5:30pm
Bridge Builders – Tuesday 14 March 4pm
You can RSVP to attend any of these sessions via the links found on the Partnership Program MyCC Page.
I encourage you to attend these most valuable sessions to learn about aspects of your child's education at the College and to connect with the College community.
Partnership Article
Starting a new school year or semester can contain anxiety-ridden unknowns for children – including a new teacher, harder lessons, different clothes and where they'll sit in class.
But perhaps the most unsettling challenge for your child may be around making new friends while keeping those they already have.
Friends are people that your child can sit with, play with, talk to, share things with, confide in and sometimes argue with.
Children's friendships are often very fluid and it is the quality of friends that your child has that is important, not the number.
Whether your child has one special friend or many friends isn't really the issue.
As long as they are happy and content you can be assured that they will be fine.
Conflicts between children are a normal part of growing up and are to be expected.
These conflicts are not considered bullying, even though they may be upsetting and need to be resolved.
Please find some useful tips in this week's article: WEBLINK
Upcoming Events
| | |
| --- | --- |
| Saturday 4 February | Junior TAS Sport Round 1 |
| Monday 6 – Wednesday 8 February | Prep Vision Screening |
| Monday 6 February | Beenleigh Zones Swimming Carnival |
| Tuesday 7 February | Supporting My Child With Reading (P – Year 2) Parent Information Session |
| Thursday 9 February | Supporting My Child With Reading (P – Year 2) Parent Information Session |
| Thursday 9 February | Volunteer Induction |
| Saturday 11 February | Junior TAS Sport Round 2 |
I hope you and your family enjoy a restful and slightly cooler weekend.
Yours faithfully
Michelle Leftwich
Head of Junior School