From Our 2022 College Captains: Welcome To Canterbury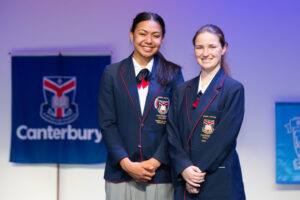 Welcome back to the start of a new school year on campus!
The start to 2022 has been a bit unusual with an extended two-week break and the Year 11 and 12 students who commenced their first week of Term 1 online.
While it has been a bit of a rocky start, we wanted to reassure you all – that just like last year's lockdowns, we will bounce back more robust and more resilient.
We are now back on campus and in full swing. We are back in our classes learning new content and challenging ourselves to improve.
But don't worry, the College hasn't forgotten about all the exciting events and excursions that have been postponed due to the current restrictions.
We're sure you will be eagerly awaiting these events to come around later in the year.
A warm welcome to the newest members of our Canterbury family – we hope you've settled in and are enjoying the beginning of your journey with us thus far.
We want you to have the best experience possible, learning and trying new things, while meeting and making new friends.
Our extra and co-curricular activities are a great way to do this, so we encourage everyone to try something new and sign up for some of the fantastic clubs, sports and ensembles available here.
Our sports and music programs are now back up and running.
And we can't wait to see our TAS girls and boys basketball, tennis, cricket, football and volleyball teams representing Canterbury for our first round against West MAC on Saturday and our Junior TAS teams training at home in preparation for their first round of competition next weekend.
It's great to see so many of you getting involved, trying new activities and wearing the Taipans sport uniform with such pride.
Get behind one another, get involved and get ready for another fantastic year.
Remember, being better prepared makes us stronger!
Whether this is your first year at the College or you're thirteenth, we hope you know of your value as a member of our Canterbury family.
Please don't hesitate to make it known when you need help!
Please reach out to one of our amazing Canterbury staff or your fellow Cantabrians, as there will always be a helping hand close by.
We hear you; we see you and hope the best for you as we start Term 1 for 2022.
Madisen-Jade Iva and Kristina Mrsic
2022 Canterbury College School Captains