EVENT WRAP: Inaugural Canterbury Boys First VI vs Past Students Mens Alumni VI Volleyball Showdown!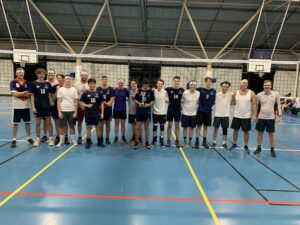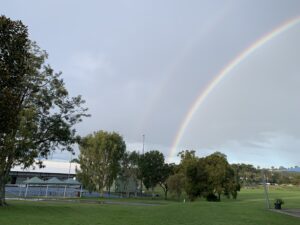 With the week's rainfall mercifully ending, and a beautiful early evening rainbow shining over the campus Sports Hall, our Inaugural Boys First VI vs Past Students Mens Alumni VI Volleyball Showdown was finally on Wednesday night 30 March – after two years of COVID-cancellations…
Our 'sleeper hit' event attracted 105 RSVPs shared between past students and their families and guests, current Years 10-12 secondary students, College staff and members of the Canterbury Alumni Network Committee, plus another 431 total online engagements over our event's Facebook Livestream.
Watch the Facebook Livestream Recording HERE.
After the delicious free post-school/work BBQ outside, everybody gathered indoors at 6:00pm for the much anticipated showdown, hosted by fresh MC, past student, AND current Canterbury Junior School Teacher Mr Michael Brown.
Special guests included College Chairman Mr Jeff Thomas and his wife Mandy – there to watch their son Brent Thomas playing for the alumni team, Principal Mr Dan Walker and Volleyball Coach Mr Andrew Porter – there to (hopefully) guide his Boys First VI onto victory.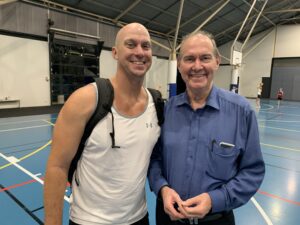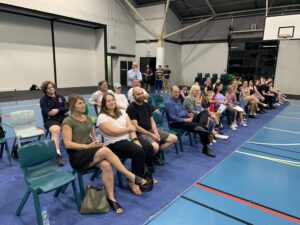 Canterbury's undefeated 2022 TAS Trimester 1 Boys First VI were probably feeling pretty confident until the fit-looking tall timber (over six-foot) alumni squad showed up, bolstered by some recently graduated Class of 2021 Boys First VI Players.
This is how both teams lined up for the 'best of three sets' showdown:
2022 Canterbury Boys First VI Volleyball Team: Jalen Harrison (Captain), Elijah Walters, Hunter Edwards, Jack Henry, Jack Addley, Jackson King, Jeremy Kriletich. Coach: Mr Andrew Porter.
VS
Past Students Mens Alumni VI Volleyball Team: Brent Thomas (1996), Michael Holland (1997), Rob Joseph (2013), Will Glass (2017), Baxter Hood (2019), Jack Danbury (2020), Cam Andrews (2017), Casey Milne (2021), Anderson Som (2021), Brad Elms (1999), Tony Packenas (2001), Connor Addley (2021).
COVID Late Team Change: OUT – Baxter Hood. IN – Connor Addley.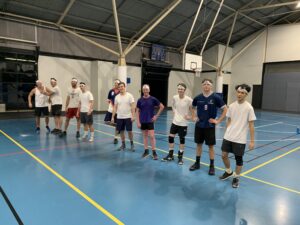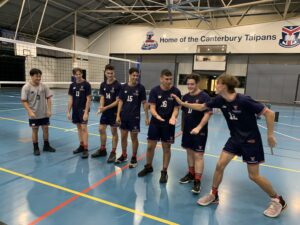 There were no lead-up training sessions – players just brought their 'game face' and 'game skills' on the night – which suddenly had that exciting live 'after dark' sport audience atmosphere echoing throughout the hall.
SO… How did the fight for glory, bragging rights and the new shiny trophy actually go?
First Set: Past Students Alumni WON 25 – 15.
Wow – we have a game on our hands here!
Second Set: Current Student Firsts WON 25 – 23.
Phew – now that was a tense, close, tight tussle all the way…
Third Set: Current Student Firsts WON 25 – 11.
The fast-tiring alumni players battled uphill against the well-drilled current students, who enjoyed the advantage of a full Term 1 of TAS match cohesiveness, combinations and training drills behind them, as it all clicked together.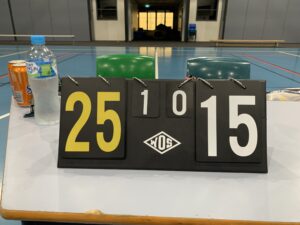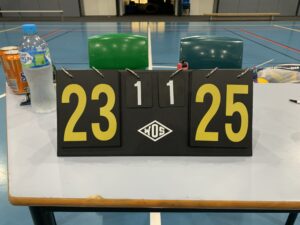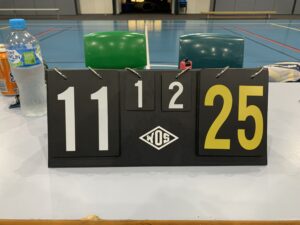 So CONGRATULATIONS to the 2022 Canterbury Boys First VI Volleyball Team – Inaugural event winners!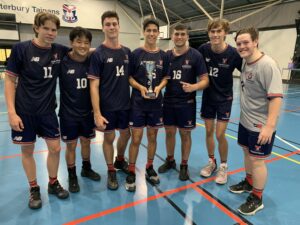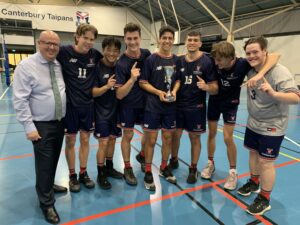 And a BIG thank you to everyone who attended, as we now look forward to the Inaugural Canterbury Girls First VI vs Past Students Womens Alumni VI Volleyball Teams Showdown scheduled for Term 3.
FUN FACT: That alumni player wearing the white singlet with the shaved head is Mr Brent Thomas (Class of 1996) – the man behind the legend behind the shield, that is the Canterbury Brent Thomas Volleyball Shield awarded each year to the College's Best Volleyballer Player.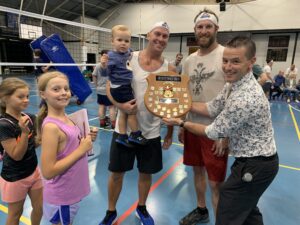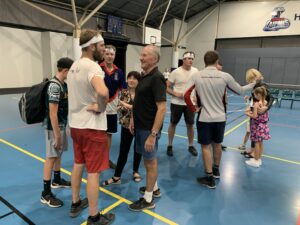 The FULL 71-image event photo gallery is in our College Facebook Albums collection.