Canterbury's Cooper Weston Conquers Finke Desert Race
Finke Desert Race conquered by 16-year-old from Gold Coast with granddad plotting their course.
Written By ABC Alice Springs / Eliza Goetze & Staff
Picture Credits: Kate Weston & Eliza Goetze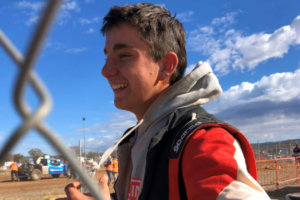 Three generations of the same Gold Coast family have finished the Finke Desert Race, including a 16-year-old from Canterbury College who only had three practice laps under his belt.
Finke is considered one of Australia's most challenging off-road races.
The event is an off-road, multi-terrain, two-day race for bikes, cars, buggies and quad bikes through desert from Alice Springs to the small community of Aputula, also known as Finke.
The return leg of the 2021 bike event was cancelled following an incident in which a spectator was killed.
But finishing just hours before the tragedy, teenager Cooper Weston said he was stoked to compete in the buggy class.
"There was no dust that last 40 [kilometres], there were cars behind us … we just had to make that finish line," he said.
Cooper's 72-year-old grandfather, Reece, was in the passenger seat of their modified buggy, navigating the teenager through his first desert race behind the wheel.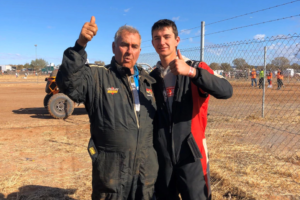 'Only three practice laps'
Crossing the finish line on a Monday morning, Cooper said his race highlight was "them whoops" — a series of small bumps or hills in succession.
"Just hit 'em flat, you're just going for it," he said.
"That was pretty cool man.
"Finke has been on my bucket list since I was like, the age of five — that's a once in a lifetime experience."
Crossing the finish line just minutes ahead, Cooper's father, Chris, said they only completed work on his modified buggy last Thursday.
"It's unbelievable even for him to get to Finke," he said.
"He only did about three practice laps in it and now he's tackled the toughest race in Australia."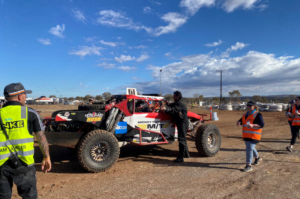 An 'off-road family'
Grandmother Kathy Elliot said Cooper may be one of the youngest people to compete in the Finke Desert Race.
"[It's] an indication of what these young kids can do if they put their goals first and go for it."
Ms Elliot described her clan as an "off-road family".
"We all meet up at various races around Australia," she said.
"Regardless of where you might be on the points ladder with the national event, everyone helps everyone out.
"Even if you're flying along and you're getting a great timing, you'll stop and help somebody else and someone else will stop and help you."
This year is the 45th event in the race's history after the 2020 race was cancelled due to COVID-19.