Canterbury Netball: a powerhouse of success in 2020
Our Netball program was again a dominating force in 2020, with our teams and individuals achieving great success in local and state championships.
We also commenced a Netball Academy subject for Year 9 and 10 students. In a great uptake for a beginning subject, the 27 students all received their general community coaching accreditation. Director of Netball, Deanne Hamilton says the students' results didn't go unnoticed. "Netball Queensland was very impressed with the high number of students completing their accreditation, particularly when a switch to online learning for part of the course meant it was an interrupted learning year."  The students also successfully completed their umpiring theory, many now umpiring for their local netball associations. Year 10 student Lilyana Fawkes went on to umpire at the 13-19 years Queensland State Secondary Championships and gain her national umpiring accreditation.
Canterbury's Vicki Wilson Shield and Cup teams excelled in 2019 and so received automatic entry into the state championships this month. The Shield team comprised of Year 7-9 students once again staked their victorious claim on the top position, winning the gold medal for the second year in a row, convincingly beating Helensvale SHS in the grand final 39-16.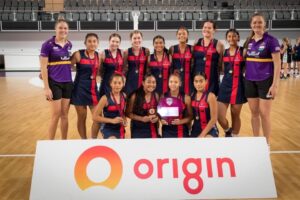 Our Cup team featuring Year 10-12 girls, finished third in a highly competitive pool, qualifying for the finals for the first time. Canterbury's senior mens' netball team received a wildcard entry to the competition, a great feat in their first year of competition and for many of the students, the first time they have considered playing netball as a competitive sport. Although not qualifying for the finals, the team showed significant improvement in their games, with a number of players catching the eye of Queensland Suns talent scouts.

Two Canterbury Year 12 students, Grace Hamilton and Lori Barron are contracted to Brisbane East Netball for the 2020 Hart Sapphire Series, with both girls also selected to play for the Tigers team in the 18 Years State Titles. The shooting duo had a strong competition, walking away with a well-deserved silver medal. In the 16 Years age group, the College had strong representation in the Emerging Talent Program across both Brisbane South and Brisbane East regions. Jada Anstee, Madisen-Jade Iva, Ema Wood, Lathia Sheppard, Tahmira Sheppard and Zoe Battaglene Sharp were all successful in their trials and in securing positions in squads.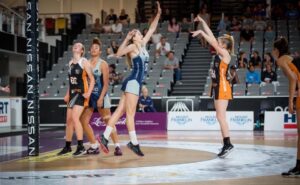 Aside from association pathways, a number of players represented the College at district level and then for South Coast region at the Queensland Championships. Year 8 student Aaliyah Frescon-Sheppard conquered the centre court and brought home a gold medal in her championship final.
Netball training began at the start of the season in earnest, with Canterbury's Performance Netball Coach Erin Byrnes working closely with the students. "We are defining their court structures to bring more of a competitive edge to their game, which is a new style and understanding of game play aimed at lifting them to the next level," she said.
Coach Erin was keen to make her mark across all of the school's netball teams. "Canterbury plays in The Associated Schools sport, and we are developing the girls as athletes and conducting specialist shooting clinics. Many of these students play representative netball for their eight associations across South East Queensland, coach in the TAS competition and also coordinate the Junior School Net Set Go program at Canterbury," she explained.
"The last couple of years I have mainly coached adults but working at Canterbury was an opportunity to get back to doing what I love most: developing young talent," Erin said.
"Canterbury has a great many talented, committed players who are keen to learn, it is exciting to be here and part of it."