Canterbury College WINS 2023 Junior TAS Track & Field Athletics Championships!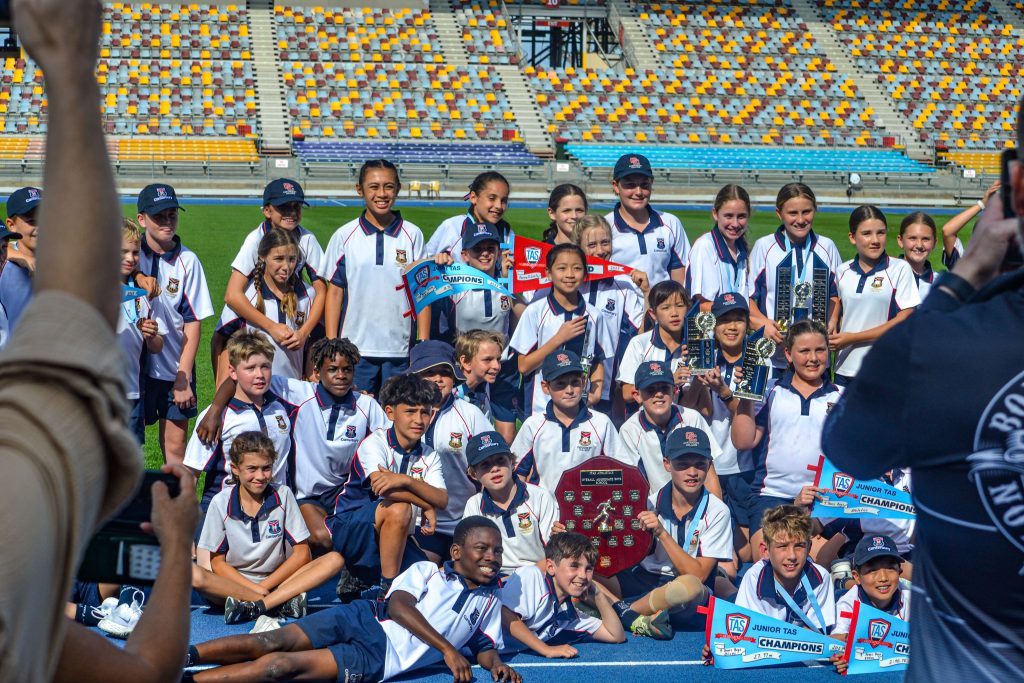 Last Friday, our large Junior School squad competed at the 2023 Junior TAS Track & Field Athletics Championships over at the Queensland Sport & Athletics Centre (QSAC) in Nathan.
We did exceptionally well, winning five age groups – 9 Years Boys, 10 Years Boys, 10 Years Girls, 12 Years Boys and 12 Years Girls!
And we placed first in the Boys Overall and second in the Girls Overall rankings.
After all the points were tallied, we were named the 2023 Aggregate School Champions!
Congratulations to all our students who competed on the day.
Special mentions go to:
Jesse Pickvance-Hall: 9 Years Boys Age Champion + two Junior TAS Records (800m & Discus)
Trinity Francois: 10 Years Girls Age Champion + one Junior TAS Record (100m)
Mason Suckling: 10 Years Boys Age Champion
Nate Puhakainen: 3rd Place 11 Years Boys Age Champion
Lexie Bakos: 12 Years Girls Age Champion
Zarayah Williams: 2nd Place 12 Years Girls Age Champion
Kadel Kypr: 12 Years Boys Age Champion
Peter Flaherty: 12 Years Boys Multi-Class Age Champion
A HUGE thank you to Mrs Brooke King, Coach Lachlan, Coach Jade, Coach Rachael, Coach Hayden, Coach Camryn and Coach Connor for the awesome work they have done with our students to prepare them for this big day.
Thank you also to Mr Ben Maxfield and Coach Rachael for the event photos.
For the full list of results, please visit this weblink HERE.
The full photo gallery can be found on our Facebook Page HERE.