Canterbury Cardio Tennis Six Week Summer Challenge!
WHAT: Canterbury Cardio Tennis Six Week Summer Challenge!
Each Weekly One-Hour Session Features: Tennis Skills Drills | Fun & Fitness Games | Speed Ladders | Skipping Ropes | Mini Weights & More.
WHEN: Starts 6:30pm – 7:30pm Tuesday 19 October 2021.
THEN: 6:30pm – 7:30pm EVERY Tuesday Night For Next 5 Weeks:
START – TUE 19 OCT | TUE 26 OCT | TUE 2 NOV | TUE 9 NOV | TUE 16 NOV | FINALE – TUE 23 NOV.
WHERE: Canterbury Tennis Centre – Canterbury College: 182 Old Logan Village Road, Waterford.
– Use Entrance F via Old Logan Village Road, then follow the signs along the gravel road around the back of the Athletics Track during our current roadworks.
– Plenty of onsite parking available right beside the eight tennis courts.
WHO: Open to Canterbury students, staff AND the entire Waterford / Logan Community AGED 16 YEARS & OVER.
COST: $70.00 – Covers Full Six-Week Cardio Tennis Skills & Fitness Program.
RSVP: Please email –  OR call – 07 3299 0900.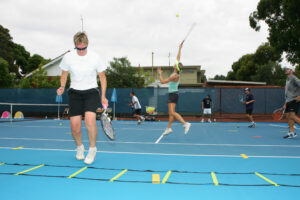 MORE DETAILS:
You MUST have a step tracker and calorie tracker on your wristwatch.
Don't forget your water bottle.
PRIZES: 1st, 2nd & 3rd – FOR Most Steps Taken AND Most Calories Burned during the 6 x one-hour Cardio Tennis sessions ONLY.
Exercise activity conducted outside these sessions do not count – only the six totals added up at the end of each Tuesday night session, for the grand total steps and calories achieved by the close of the Tuesday 23 November big finale.
Please spread the word and join up to challenge your family members, friends, staff or colleagues in the local Waterford / Logan Community.
And let's all get super fit for Summer!