Canterbury Aqua Aerobics: Every Tuesday Evening + Wednesday Morning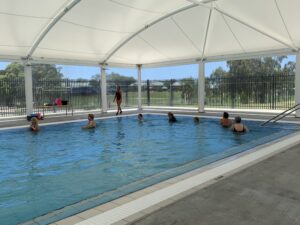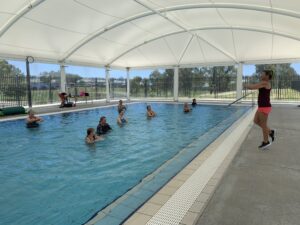 What: Canterbury Aqua Aerobics With Ms Vickie
When:
EVERY Tuesday Evening: 6:15pm – 7:00pm (45 Minute Class)
EVERY Wednesday Morning: 9:30am – 10:15am (45 Minute Class)
*EXCEPT Easter School Holidays 3-Week Break*
Where: Canterbury Taipans Aquatic Centre – Canterbury College.
– Heated Magnesium Pool.
– Use the Sports Precinct Gate, 182 Old Logan Village Road, Waterford.
– Plenty of onsite parking.
Who: EVERYONE WELCOME – College Families | Students | Staff | General Public.
Cost: $15 Per Person Per Class – Casual Public Entry.
RSVP: No need to RSVP – just come along with your swimwear and towel.
For more information – Tel: 07 3299 0900  |  Email – 
See you there – splash on down!
Top Benefits – Aqua Aerobics
1. Water supports your body, putting less stress on your joints and muscles.
2. Working out in water helps build strength, as pushing against the water activates your muscles.
3. Water pressure helps put less strain on your heart by moving blood around the body.
4. The impact of gravity is less in water, allowing a greater range of motion.
5. Working out in water helps prevent overheating, helping you exercise for longer.
6. And… it's fun! How often can you say that about a workout?