Ben James Junior Olympic Games Weightlifter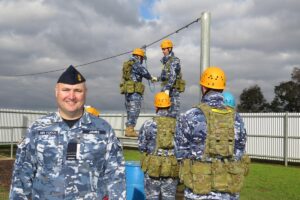 Hi Canterbury Social Media Team,
Saw your post yesterday about Alysia Lefau-Fakaosilea and just wanted to bring your attention to a former student Ben James, a weightlifter who went to the Junior Olympic Games…
Regards
Janine Crawford
Life in the RAAF: Ben James
Actual Story Weblink – Courtesy of the Australian Air Force Website
The professionalism, duty and dedication demonstrated by ADF personnel during the humanitarian support mission to Nias, Indonesia in 2005 (commonly known as the 'Shark 02 Mission') inspired Flight Lieutenant Ben James to become an Air Force Nursing Officer.
Flight Lieutenant (FLTLT) James grew up at Cedar Creek on the Gold Coast Hinterland and said he had many fond memories of spending time outdoors with his mother and father on their farm.
"I was very active growing up. Through lots of hard work and a bit of luck I managed to represent Australia and Queensland in Olympic Weightlifting tournaments, represented Queensland in Judo competitions and in Gridiron matches and was very involved with the local Brothers' Rugby Union Club," FLTLT James said.
"I went to Canterbury College and Griffith University in Queensland, and graduated with a Bachelor of Science in 2001 and a Bachelor of Nursing in 2006."
In his free time, FLTLT James managed three cinemas located in Balmoral, Hawthorne and South Bank in Brisbane.
"I knew I wanted a job that would offer diverse challenges, allowing me a certain level of autonomy and trust to deliver outcomes and also allowing me to help others.
"When I saw the media coverage on the 'Shark 02 Mission' and the sacrifice given by nine fine Australians whilst helping others, I decided to join and pursue an Air Force career.
"I joined the Air Force via the Undergraduate Scheme on 29 Sep 2006 and the ADF fully funded my two years on-the-job training at a local hospital.
"I then proceeded to complete my Initial Officers' Training at the Officers' Training School (OTS) in 2009.
"I must admit I had very high expectations of my Air Force Nursing Officer career but it actually exceeded my expectations in many ways."
FLTLT James said the Air Force offered him many fantastic opportunities to practise and develop his clinical skills through military exercises and Humanitarian Assistance and Disaster Relief (HADR) missions in different parts of the world.
"In the first nine years of my Air Force Nurse career, I have completed 30 aeromedical retrieval missions all around the globe, deployed to the Middle East on Operation Accordion from 2014-15, participated in Exercise Pacific Partnership to South East Asia in 2014, Exercise Amhex to Thailand in 2016 and Exercise Cope North to Guam in 2017.
"One of the most memorable experiences I've had was working with the Japanese Maritime Self-Defence Force on their amphibious transport ship JDS Kunisaki for three months in 2014 as part of Exercise Pacific Partnership.
"During that time, I witnessed the Air Force team work closely and efficiently with the US, Japanese, Malaysian, Chilean, Filipino, Cambodian, Vietnamese and South Korean militaries, as well as several Non-Government Organisations.
"I was part of the joint medical team and we managed to treat over 10,000 patients through Vietnam, Cambodia, and the Philippines. I genuinely believe that we have made a difference in their lives."
After almost a decade long military nurse career, FLTLT James was given a new challenge in 2018 to become a Directing Staff at OTS, at RAAF Base East Sale.
"I initially had some doubts about this posting, however to my surprise this posting has become my favourite posting and I am the happiest I have ever been in my Air Force career." FLTLT James said.
"I cannot speak highly enough about the OTS team from the Commanding Officer through to the support staff.
"It is wonderful to work in a team of dedicated professionals that are all working toward a common goal – to shape and inspire our future Air Force leaders."
FLTLT James said he enjoyed growing and developing Junior Officers in line with Air Force values and inspiring them to be the best leaders they can be.
"It is an honour being there for every step of my students' initial military journey, including sharing their excitement at attending the Avalon International Airshow, boarding an Air Force aircraft for the first time, and marching with them on their first Anzac Day.
"It is also a real privilege to know that I will train a potential future Chief of Defence Force, Chief of Air Force and Star Ranked/Senior Officers.
"I know I am making a difference as former students contact me well beyond graduation to seek advice.
"Being an instructor at OTS is a great opportunity to share my diverse operational experience and give back to the organisation."
FLTLT James would highly recommend an OTS instructor posting to all members.
"The OTS Chain of Command is very supportive of professional and technical development and the unit operates on a scheduled routine so it is easy to plan training opportunities well in advance.
"Being an instructor at OTS allows you to pick up many transferable skills including leadership, communication, management, problem solving and analytical skills, which will make you a more well-rounded member once you return to your specialisation/mustering.
"Working outside your core role allows you to better understand the organisational culture and allow you to shape the future of the Air Force in ways you may not have considered."
FLTLT James enjoys playing Japanese Taiko Drums, competing in Kendo, practising other forms of martial arts, reading extensively and playing with his dogs and cat when he is not working.