2022 Winter Music Festival: 1-15 June Concert Details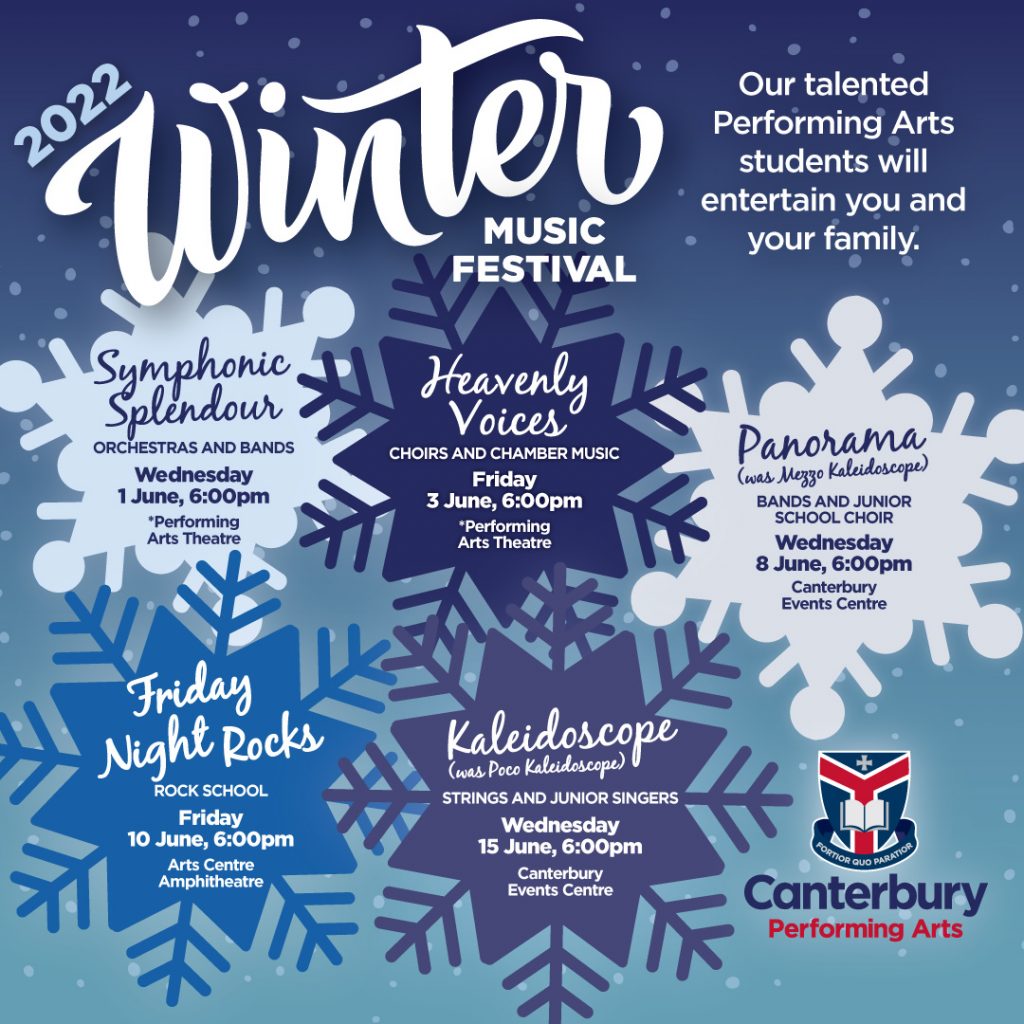 We are pleased to announce the dates for Canterbury's 2022 Winter Music Festival, which showcases and celebrates the outstanding work of our music ensembles with five concerts throughout June.
Event Overview
Please visit the Performing Arts Page for more specific information.
The following information outlines arrival and concert times, meeting rooms and uniform requirements for all students involved in our Winter Music Festival.
Concert 1: Wednesday 1 June – Symphonic Splendour: Performing Arts Theatre
Meeting Time
Concert Begins
Concert Ends
Ensemble
Meeting Room
Teacher
5:30pm
6:00pm
7:30pm
Ritornello
M12
Ms Munoz
Percussion Company
M5
Miss Fung
Big Band
M6
Mr Temple
Symphonic Band
M6
Mr Temple
Sinfonia
M12
Mrs Lee
Concert 2: Friday 3 June – Heavenly Voices: Performing Arts Theatre
Meeting Time
Concert Begins
Concert Ends
Ensemble
Meeting Room
Teacher
5:30pm
6:00pm
7:30pm
Bella Voce
M6
Ms Marcus
Trio Bellissimo
MS01
Mr Li
Taipan Tenors
M5
Ms Sutton
Concert Choir
M3
Dr Peddell
Cantabile
M1
Dr Peddell
Concert 3: Wednesday 8 June – Panorama (was Mezzo Kaleidoscope): CEC
Meeting Time
Concert Begins
Concert Ends
Ensemble
Meeting Room
Teacher
5:30pm
6:00pm
7:00pm
Year 6 Band
CEC
Mr Temple
Beginner Band
CEC
Mr Temple
Bravura Strings
CEC
Ms Munoz
Junior Choir
CEC
Mrs Weber
Concert 4: Friday 10 June – Friday Night Rocks: Arts Centre Amphitheatre
Meeting Time
Concert Begins
Concert Ends
Ensemble
Meeting Room
Teacher
5:30pm
6:00pm
8:00pm
Rock Bands
Studios/Rooms
Mr Lane
AGB
M5
Mr Lane
Junior Guitar Ensemble
M6
Mr Lane
Guitar Ensemble
M6
Mr Lane
Concert 5: Wednesday 15 June – Kaleidoscope: CEC
Meeting Time
Concert Begins
Concert Ends
Ensemble
Meeting Room
Teacher
5:30pm
6:00pm
7:00pm
Year 3 Strings
CEC
Ms Munoz
All Star Strings
CEC
Ms Munoz
Allegro Strings
CEC
Ms Kondo
Junior Singers
CEC
Mrs Weber