2022 Canterbury Major Stage Production: Disney's The Lion King Junior – Coming October!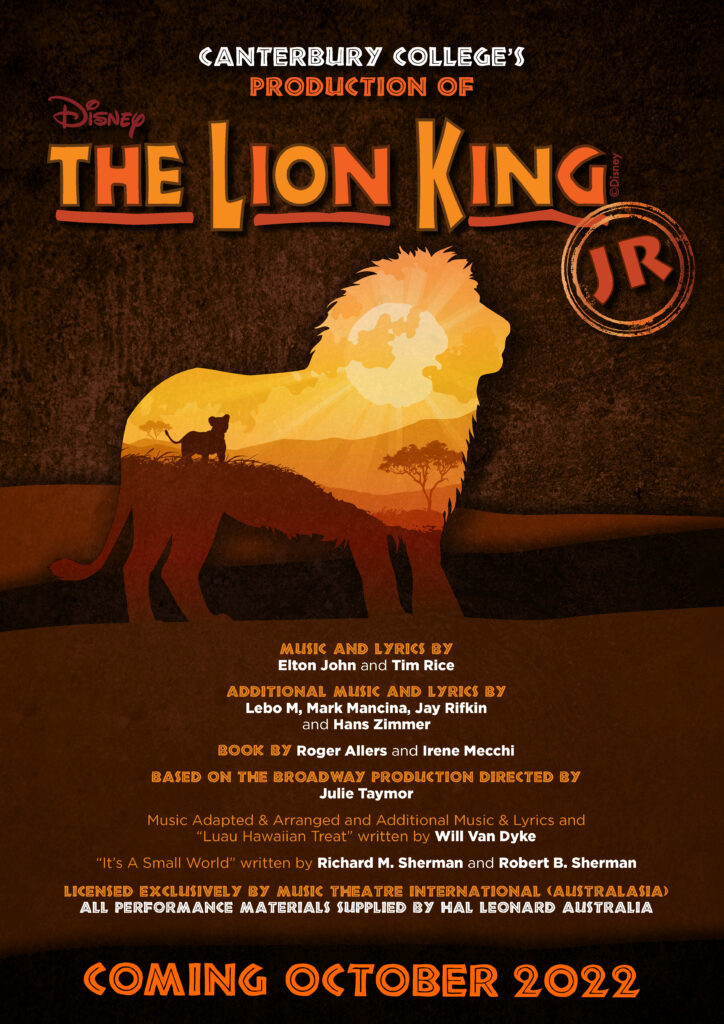 General Information
We are excited to announce that in Term 4, The Lion King Junior is being performed at Canterbury.
This is an amazing opportunity for students to be part of a large-scale production right here at the College.
There are numerous roles to be filled, including on-stage characters and back-stage support.
In preparation, we will begin early in Term 2 with auditions, followed by rehearsals.
Years 4 to 6 students are invited to audition to be part of this show and although beneficial, students DO NOT need to have previous experience or training in singing, dancing or acting – as these skills will be taught throughout the rehearsal process.
So we are seeking Junior School students who are genuinely dedicated and truly excited to be part of this fulfilling and fun educational and personal experience.
The many roles in the show, range from the animals of the Pridelands in an ensemble, to major character roles such as Simba, Scar and Mufasa.
Here is the dedicated MyCC Lion King Junior Homepage.
Register Your Interest NOW!
To register your interest in being part of this experience PLEASE CLICK HERE.
We are looking for the following:
• Character Roles – Audition Required: Please see below.
• Ensemble – Singer
• Ensemble – Dancer
• Ensemble – Actor: I just want to be in the show!
• Backstage Support
Preparing For Your Audition
TERM 2: WEEK 1 AUDITIONS – WEDNESDAY 20 APRIL, 3:30PM – 5:00PM, VENUE: A05.
Please Be Prepared…
You will perform both a speaking and singing audition…
1. Speaking will be a Monologue, which you get to choose from a set of four monologues.
2. Singing will be I Just Can't Wait To Be King and possibly Happy Birthday, so we can listen to the range of your voice.
Please Ensure You…
Research the character of your chosen monologue – understand what is happening to them in the story.
Please Remember…
It's okay to be nervous. In fact, it's a good thing. Just do your best at whatever you are asked to do. Smile and have fun!
NOTE: There are many roles in the show, so your teachers will decide what role suits you best.
It might be a different role than the one you read in your audition.
PLEASE COMPLETE THE REGISTRATION FORM TO SELECT YOUR AUDITION TIME.
Audition Preparation Materials
2. Singing – I Just Can't Wait To Be King
3. Vocals – I Just Can't Wait To Be King
4. Instrumental Backing Track – I Just Can't Wait To Be King
Characters – Major Roles
Rafiki – a mysterious but wise mandrill
Mufasa – King of the Pridelands
Scar – Mufasa's jealous brother
Zazu – a hornbill and Mufasa's loyal yet fretful attendant
Simba (Young) – a curious eager lion
Simba – grows up to be King
Nala (Young) – an energetic and brave lioness
Nala – Simba's best friend
Timon – a sarcastic but outgoing meerkat
Pumbaa – a gentle and kind-hearted warthog
Characters – Minor Roles
Sarabi – lioness, Queen of the Pridelands, Simba's mother
Sarafina – lioness, Nala's mother
Banzai, Shenzi, Ed – scruffy, tough and dim-witted hyenas who serve Scar
Ensemble
Lionesses
Hyenas
Various Pridelands animals including wildebeest
Production Rehearsals
Rehearsals will be held on Wednesday and Friday afternoons from 3:30pm to 5:30pm.
Venue: TBC.
Not every student in the production will be required at every rehearsal.
A detailed schedule will be posted early Term 2.
Some weekend rehearsals may be required as we get closer to the production date.
The Lion King Junior Show Synopsis
RAFIKI gathers the ANIMALS of the Pridelands to welcome the newborn cub of King MUFASA and Queen SARABI (Circle Of Life With Nants' Ingonyama).
The king's jealous brother, SCAR, no longer heir to the throne, skips the ceremony, upsetting Mufasa.
Time passes (Grasslands Chant) and YOUNG SIMBA grows into a curious young lion.
Mufasa explains the circle of life and that Young Simba will one day be king of the Pridelands.
Young Simba shares this news with Scar, who encourages his nephew to visit the forbidden Elephant Graveyard.
Young Simba finds his best friend, YOUNG NALA, hunting with SARAFINA and the LIONESSES (The Lioness Hunt) and invites her on his adventure.
Once they ditch their overbearing babysitter, ZAZU (I Just Can't Wait To Be King), the cubs encounter the ravenous hyenas SHENZI, BANZAI and ED in the graveyard.
Mufasa arrives and pummels the hyenas, then takes the cubs home safely.
Scar emerges from the darkness to recruit the HYENAS in his murderous plan to become king (Be Prepared).
Back in the Pridelands, Mufasa reprimands Young Simba, then shares the guidance of their ancestors, up among the stars (They Live In You).
Enacting his plan, Scar leaves Young Simba alone in the gorge and signals the hyenas to scare a herd of wildebeest (The Stampede).
Scar alerts Mufasa, who leaps into the stampede to save his son.
Mufasa rescues Young Simba, but Scar pushes his brother back into the gorge, where he is trampled.
Scar blames Young Simba for the king's death and tells him to run away and never return.
As Sarabi, Young Nala, Rafiki and the lionesses mourn the loss of Mufasa and Young Simba (The Mourning), Scar assumes the throne, uniting lions and hyenas under his dark reign.
Lost in the desert, Young Simba meets TIMON and PUMBAA, who take him to their 'worry-free' jungle home (Hakuna Matata).
Under Scar's reign, the Pridelands are nearly destroyed.
Now grown, NALA decides to leave and seek help (Shadowland).
To her delight, she finds SIMBA alive in the jungle (Can You Feel The Love Tonight).
Nala urges him to take his rightful place as king but, still ashamed, Simba refuses.
Rafiki appears and helps Simba remember his father (He Lives In You).
With newfound courage, Simba agrees to return to the Pridelands.
Timon and Pumbaa distract the hyenas (Luau Hawaiian Treat) while Nala rallies the lionesses.
Simba confronts his uncle, the truth of Mufasa's murder is revealed and Scar runs away, pursued by angry hyenas.
With peace restored in the Pridelands, Simba takes his place as king and the circle of life continues (Finale).