2021 Junior School Remembrance Day Service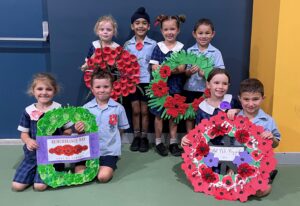 Our Canterbury Junior School commemorated Remembrance Day 2021 with a special service this morning.
On the 11th hour of the 11th day of the 11th month in the year 1918, World War One officially ended.
Remembrance Day is a time to remember the honour and courage of those who died or suffered for Australia's cause in all wars and armed conflicts.
Today we invited special guest Warrant Officer Matthew Vernon to be a part of our ceremony.
Warrant Officer Vernon is a Force Element Group Training Coordinator for Combat Support Group, at the Royal Australian Air Force (RAAF) Base over at Amberley.
Each Junior School class also made wreaths that were decorated with poppies.
The poppy has a special significance as they were the first flowers to bloom after the devastating human losses on the European battlefields during the First World War.
Poppies are worn on Remembrance Day and are also used along with other flowers to make commemorative wreaths.
Our Junior School Class Captains laid the wreaths beneath the Australian Flag during the reading of In Flanders Fields – a famous wartime poem, to pay respect and offer tribute to those who lost their lives in 'The Great War'.
Our students then recited The Ode and Mr Temple played The Last Post, which was followed by a minute of silence and the playing of The Rouse.