Years 9 & 10 Business Start-Up Showcase | 8:45am – 10:15am, THIS Wednesday 22 November @ Canterbury Functions Centre – Featuring Guest Speakers & Business Start-Up Stalls: ALL WELCOME!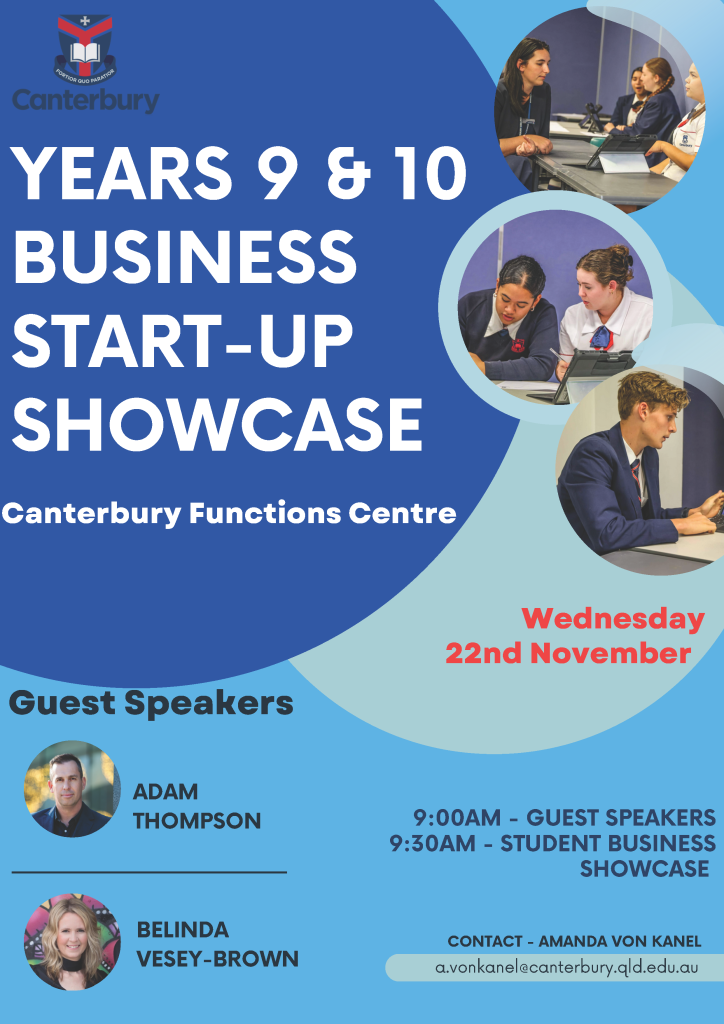 What: Years 9 & 10 Business Start-Up Showcase.
Please come along to support our Years 9 & 10 Business, Economics and Accounting Start-Up students, by visiting their stalls as they present their business ideas, products and services to you.
Plus hear from two successful, innovative and experienced Guest Speaker Entrepreneurs – Adam Thompson and Belinda Vesey-Brown, with thoughts and strategies to help your own business.
Adam Thompson: Managing Director of Stenhouse Lifting Equipment – the leading supplier, manufacturer and inspector for a wide range of auxiliary, lifting and height safety equipment.
For over 20 years, Adam has worked alongside Australia's biggest and most trusted brands in the mining, construction, engineering and urban utility sectors, keeping their people safe, their assets compliant, and their sites operational.
Having a passion for business and a strong desire to give back, he's also the Growth Director on the Regional Board for the Entrepreneurs' Organisation (EO), where he helps set the direction for our regional areas.
EO is a global not-for-profit organisation helping entrepreneurs achieve their full potential through life-enhancing connections, shared experiences and collaborative learning.
Belinda Vesey-Brown: Belinda has always been fascinated by the power of digital communication and its potential to connect people in new and exciting ways.
However, she noticed that most video content is not accessible to those with hearing loss, low vision, or with learning or language challenges.
That's why Belinda started TaggedPDF, a business that made PDFs accessible for people with low vision.
But as the fastest-growing format of digital communication, video posed a greater challenge.
That's why she created a new service offering called 'MeetAandi', a cutting-edge online tool that uses AI and machine learning to make it easy to add captions, transcripts and audio descriptions to any video.
In consultation with many Australian universities, they now have a feature-packed software tool that can assist with learning, and the goal now is to remediate 1 million minutes of video with captions and audio descriptions.
Adam and Belinda have volunteered their time to provide feedback to our students, and share their personal challenges and successes – with our big thanks!
When: 8:45am – 10:15am, THIS Wednesday 22 November 2023.
8:45am – Event Opens.
9:00am – Guest Speaker Presentations.
9:30am – Students Display & Present Their Start-Up Businesses.
10:15am – Event Concludes.
Where: Canterbury Functions Centre – Canterbury College.
– Entry via Sports Precinct Gate, 182 Old Logan Village Road, Waterford with plenty of onsite parking.
Who: Years 9 & 10 Business Start-Up Students. | For ALL Current, Prospective & Interested Canterbury Business Partners & Local Business Owners. | For ALL Parents/Carers & Non-Canterbury Siblings. | For Invited Guests.
Hosts: Canterbury's Mathematics & Commerce Faculty.
Cost: FREE Public Event.
RSVPs: Not Required – Please just come along…
Dress Code: Current Canterbury Students – School Uniform. | Adults, Parents/Carers, Non-Canterbury Siblings – Smart Casual.
Contacts: Secondary School Admin – T: 07 3299 0843 | E: | Mrs Amanda von Kanel –