Years 3-4 Kitchen Garden Students & Teachers Tuesday Lunch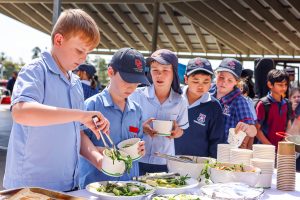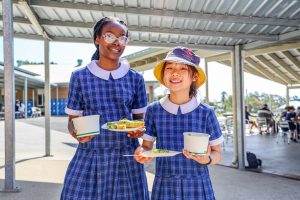 Bok Choy Stir Fry: Featuring our own bok choy harvested last Friday afternoon and our spring onions.
Parsley Pesto: Featuring our school-grown parsley and other greens including chives.
With our Kitchen Garden radishes as garnish – featuring the first of our radish crops.
Mandarin Marmalade: Made by College Services Manager Mr Colin Mason from our mandarin tree above the oval.
Bok Choy Stir Fry: Bok Choy, Garlic, Ginger, Salt, Sugar, White Pepper, Oyster Sauce, Soy Sauce, Sesame Oil.
Parsley Pesto: Flat Leaf Parsley, Lemon Juice, Garlic, Parmigiano Cheese, Olive Oil, (Pine Nuts not used).
Mandarin Marmalade: Mandarins, Lemons, Jamming Sugar, Water.
View the FULL Facebook gallery
HERE.