Years 11-12 Japanese Language Students CBD Excursion Report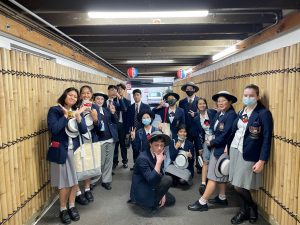 On Tuesday 26 July, our Years 11 and 12 Japanese Language students embarked on an exciting journey to 'Japan'.
In the morning, students boarded 'Canterbury Airlines' with flight director Mrs Wu, to travel to their first destination – the Consulate-General of Japan in Brisbane City.
The Consulate staff delivered a very informative presentation on the topics of 'Travel In Japan' and 'Careers Using Japanese'.
These topics are directly related to the units the Year 11s and 12s are currently studying.
After our Consulate visit, students went to DAISO – a Japanese store, and GENKI MART – a Japanese supermarket, to purchase some omiyage (souvenirs).
It is part of the Japanese culture to always buy omiyage for your friends and family when travelling.
Students bought some traditional Japanese foods – such as natto (fermented beans), to try.
The GENKI MART staff even spoke Japanese to our students to give them an authentic shopping experience.
For lunch, students went to a traditional Japanese restaurant where they had to order and pay for their food in Japanese.
Students tasted some traditional Japanese foods such as obento, sashimi (raw fish), donburi (rice-bowl dish), udon (Japanese noodles) and nigiri sushi etc.
The restaurant featured authentic Japanese décor, with beautiful lanterns on the ceiling and Japanese murals on the walls.
The last stop on our 'Japan Trip' was karaoke, an integral part of Japanese pop culture.
Students stepped out of their 'comfort zone' to sing in front of their peers and experienced the Japanese way of socialising with friends through karaoke.
Although COVID has prevented us from actually going on our biennial Japan Trip, through this Brisbane City excursion, students got to immerse themselves in Japanese culture and use the language they've been learning in class in the real world.
I hope this trip is one they will remember for many years to come…
Mrs Jennifer Wu
Japanese Language Teacher
Canterbury College