Dear Parents, Carers and Students,
Please find attached information regarding Year 3 Strings and important information for 2023.
You will find our…
Studio Tuition Program Lessons Invitation
Lesson Types (Individual, Paired, Small Groups)
Instrument Selection Range
Expressions Of Interest Online Enrolments Form
Instruments Costs & Recommended Music Stores.
Should you have any questions, please do not hesitate to contact our Arts Administration – E:  | T: 07 3299 0812.
Yours faithfully,
Mrs Mieken Augustin
Senior Administrator – Junior School
---
Dear Parents, Carers and Students,
RE: Year 3 Strings – 2023 Next Steps | Studio Tuition Program Lessons Invitation & Instrument Selection & EOI Online Enrolments Form…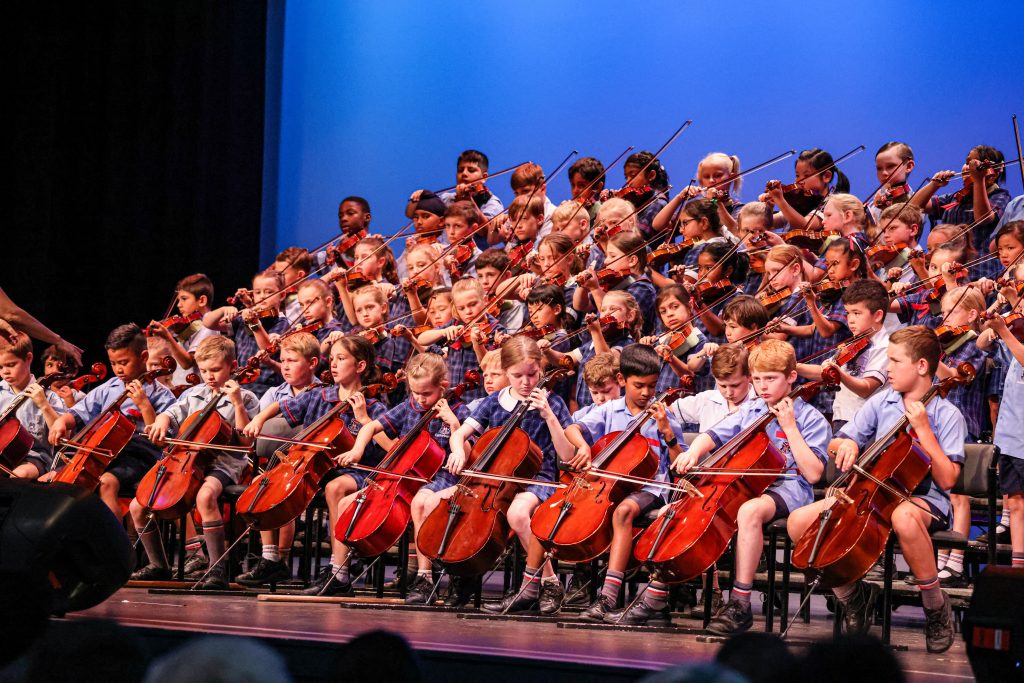 Congratulations on your child's performance in the recent Spring Music Festival Kaleidoscope Concert.
We are very pleased with how far the students have progressed on their instruments in such a short time.
As this performance also marked the official end of the Year 3 Strings Immersion Program, we now invite your child to continue their string playing in our Studio Tuition Program, further developing on the skills they have learned this year…
Selecting Your Lesson Type:
Individual, paired, or small group lessons are available.
Individualised lessons are tailored to your child, and they enhance progress.
Small group lessons allow for an engaging transition from the full class lessons to the studio program, and many students find this a great way to start.
Costs and all other information is available from the College Website Performing Arts Section HERE.
Selecting An Instrument:
Students continuing violin, viola and cello are required to purchase their own instruments.
Where this is not possible, our school endeavours to make rental instruments available to parents/carers.
There are several new instrument packages available from our recommended music stores (please see attached images).
It is very important to purchase the correct sized instruments, and we can provide this information, individualised to each student.
Allegro Strings:
Allegro Strings is the ensemble for continuing strings students and involvement is free of charge.
Rehearsals are scheduled on Monday mornings from 7:15am – 8:15am in Classroom M05, beginning Term 1, Week 2 (Monday 30 January 2023).
Expressions Of Interest:
If you wish to enrol your child in Studio Tuition Program lessons for 2023, please CLICK HERE.
If you have any questions regarding enrolments, please contact our Arts Administration – E:  | T: 07 3299 0812.
Please Note: The Arts Administration Office will be closed over the Christmas break from Monday 5 December 2022 – Thursday 19 January 2023.
Yours faithfully,
Dr Katrina Peddell
Director of Music – Canterbury College