Year 10 Hospitality Takeaway Café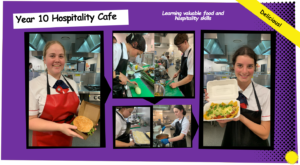 The Year 10 Hospitality Takeaway Café was a fabulous success last week.
Our Year 10 students, under the guidance of Mrs Ingram, had the opportunity to demonstrate their culinary and customer service skills, linked to the attainment of their Certificate I in Hospitality.
So both students and teachers alike enjoyed the delicious cafe meals that they prepared last Thursday and Friday.
Menu items included beef and vegetarian burgers and nachos, meat lovers and vegetarian pizza, plus loaded fries with bacon, cheese and sour cream.
Thank you to all students and staff who supported the café!