Thursday 9 September 2021: 'R U OK? Day' Junior School Bake Sale Fundraiser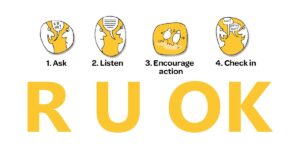 Today our Canterbury Junior School – with some help from our Year 9 students and staff – held their annual 'R U OK? Day' Bake Sale which raised over $600 for the #RUOKDay organisation.
'R U OK? Day' on Thursday 9 September 2021 is our national day of action, dedicated to reminding everyone that any day is the day to ask: "Are you OK?" and support those struggling with life in silence.
It's your chance to get involved and inspire everyone in your home, neighbourhood, school or workplace to learn when and how to have a real meaningful conversation that could change a life.
For more information please visit the official website HERE.
For today's full photo gallery please visit our Facebook Photo Album HERE.
PS: This gallery is what happens when the 2021 Junior School Book Week Costume Parade meets the 2021 'R U OK? Day' Bake Sale – some brilliant costumes to brighten the darkest mood!
And please, if you see or think someone is struggling, just start the conversation: Are you okay? Are you really okay?
Thank you!