Rivalry Round Returns vs Ormiston College THIS Saturday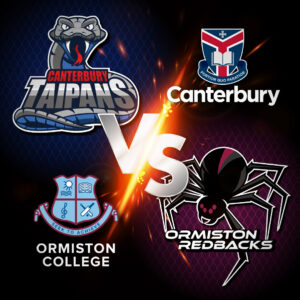 It's back… Our Canterbury Taipans vs Those Ormiston Redbacks!
Snakes vs Spiders
Reptiles vs Arachnids
No Legs vs Eight Legs
Deadly Venom vs Weak Watery Almost Harmless Venom 😉
Genuinely Scary vs Mild Nuisance
But Both Cold-Blooded!
Well you get the picture…
This time around we are AWAY at Ormiston College over in the Redland Shire THIS Saturday morning 17 July from 7:30am.
And this time the battle lines have been drawn over: Girls Touch Football, Girls Volleyball, Boys Basketball and Boys Football (Soccer).
The full fixture schedule is on MyCC, the Canterbury App and our official Facebook Page.
Who wins? Come along to support our boys and girls in red and blue to find out – and help cheer them to victory…
But it won't be easy… Ormiston College was the TAS Sport Term 2 2021 Overall Champion School.
So GO TAIPANS!! Let's do this…