REGISTER YOUR INTEREST: Certificate II in Health Support Services & Certificate III in Health Services Assistance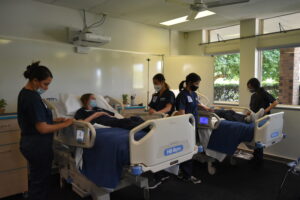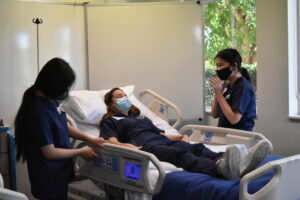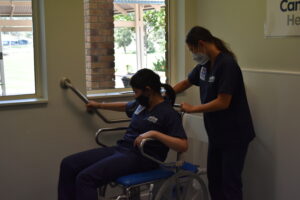 Dear Students, Parents and Carers,
Our Canterbury Health Holiday Program will commence on Monday 27 June 2022.
Canterbury Health courses are being offered to students in Years 10 – 12, who are interested in getting a career head-start in the Health Care sector.
Successful completion of these courses will qualify students to work as an Assistant In Nursing (AIN) and provide the foundational knowledge needed to undertake further studies in this field.
The Certificate II and III Courses are completed as a package, commencing in the June/July holidays and finishing in the September/October holidays.
They are conducted in partnership with Axiom College in our purpose-built Canterbury Health Mini-Hospital in P Block.
The Canterbury Health program will:
Develop the skills needed to comply with infection prevention and workplace health and safety (WHS).
Guide students to interpret and apply medical terminology and recognise healthy body systems.
Teach students how to transport clients and carry out nursing assistant duties in various settings.
The program will run from 9am to 3pm each day during the holidays.
The first part of the course will run from Monday 27 June until Friday 8 July, and the remainder of the course will run from Monday 19 September to Friday 30 September 2022.
Attached is the 2022 Holiday Program schedule.
For eligible students, the Canterbury Health program is significantly subsidised by VETis funding from the Federal Government to the value of $2,000.
The remaining out-of-pocket cost is $800 and will be charged to parents/carers in your Term 3 SRC, with the fee including a professional grade nursing kit and scrubs.
Sign-Up & More Information
Your expression of interest MUST be received by 4:00pm Friday 27 May 2022.
Expressions of interest are accepted via THIS FORM HERE.
Further details about these qualifications can be found below:
Should you require further assistance or information, please contact either Ms Bre Ramsay-Orr, Director of Student Futures, or Mrs Tracey Clarke, Head of Faculty Health Sciences, via (07) 3299 0843.
Yours faithfully,
Tracey Clarke
Head of Faculty Health Sciences