Our Emerging QLD Music Star Awarded Keith Urban Scholarship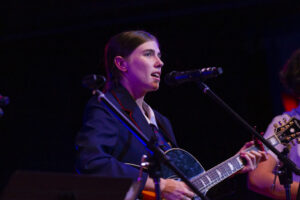 Queensland country star of the future – and Canterbury College's Year 12 singing sensation, Briana Dinsdale – will head to a prestigious music course, with the backing of none other than Keith Urban.
The Logan teenager, Canterbury Arts Captain and Rock School leading light will attend the CMAA Academy of Country Music in Tamworth in January as the second recipient of the Keith Urban Scholarship.
The 10-day residential skills and career-development program was, and still is, a unique and world-leading initiative.
It has helped launch the careers of many of our current genre's stars including Jessica Mauboy, Sara Storer, The McClymonts, Travis Collins, Amber Lawrence and The Sunny Cowgirls, to name just a few of the 500-plus artists who have graduated since the Academy was established in 1997.
Briana, who describes herself as "the biggest Keith Urban fan", said she attended the online Academy X in January and had previously applied to the Junior Academy course, but the timing had not worked.
"I honestly just bawled my eyes out right then and there when I found out I'd been given the scholarship," she said.
"I was shaking, I was so overwhelmed with excitement and it was the realisation that dreams do come true.
"I've learned patience and that, if something is worth the wait, you will get there eventually and good things will come from it."
The Year 12 student has released two singles and an album that have been streamed and received airplay in more than 15 countries.
"I have really wanted to work with some of the tutors for years, as I have looked up to them, and I've wanted to meet a lot of friends and have the whole academy experience," she said.
"I want to learn the tips and tricks of the industry and songwriting is my favourite thing, so being able to write with a bunch of people will be incredible."
Keith Urban's own stellar career began in 1990 when the then 22-year-old won Australia's premier talent search competition, Star Maker at the Tamworth Festival.
Many of The Academy graduates have targeted Star Maker as the first rung on the ladder to success, with 15 of the past 20 winners of the prestigious title having come through the program.
Tutors this year are Golden Guitar winners Ashleigh Dallas, Kevin Bennett and Lachlan Bryan, led by director Lyn Bowtell and general manager Roger Corbett.
During The Academy, students will be treated to star spots with Andrew Farriss, The Buckleys and Kasey Chambers in person, as well as Troy and Academy graduate Jem Cassar-Daley chatting with the students via Zoom.
The Academy runs in Tamworth from January 4-14 next year in 2022.
Good luck Briana Dinsdale from everyone here at Canterbury College!