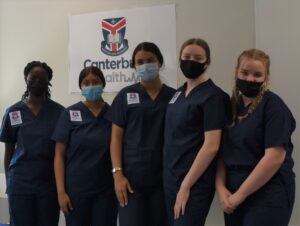 **Monday UPDATE: We require FIVE more students to enrol, for this accelerated holiday course to proceed.**
**Extended Enrolment Due Date: 4:00pm THIS Wednesday 15 September 2021.**
Dear Students, Parents & Carers,
Canterbury Health, in partnership with Axiom College, is proud to be offering health qualifications on-site via our very own P Block Mini-Hospital.
This program has been extremely successful to date, so we would like to open up the opportunity to undertake these Certificates, as an accelerated holiday program.
WHAT: Canterbury Health – School Holidays Official Qualifications Certificates Program.
Certificate II in Health Support Services
Certificate III in Health Services Assistance
WHO: For current Years 10, 11 & 12 Canterbury students.
WHEN: During the upcoming September School Holidays and part of the Christmas School Holidays – exact schedules in the two PDF timetables attached.
September School Holidays:

Start – Certificate II: Health Support Services – Monday 20 September 2021.
Start – Certificate III: Health Services Assistance – Monday 20 September 2021.

Christmas School Holidays:

Complete – Certificate II: Health Support Services – Wednesday 24 November 2021.
Complete – Certificate III: Health Services Assistance – Tuesday 30 November 2021.​​​​​
WHERE: Canterbury Health Rooms – P Block, Canterbury College – Secondary Campus.
*PLEASE SUBMIT YOUR INTEREST VIA THIS WEBLINK BEFORE 4PM THIS WEDNESDAY 15 SEPTEMBER 2021*
NOTE: Student numbers are limited so please respond NOW to avoid disappointment!
FURTHER INFORMATION: These two certificate qualifications provide students with the foundational skills needed to assist across a diverse range of health care settings.
Health care workers are currently in high demand around Australia, with more than 50,000 industry job openings expected within the next five years.
These qualifications will give students the knowledge to work as an Assistant In Nursing (AIN) and will help develop the skills they need to:
– comply with infection prevention and Workplace Health & Safety rules
– interpret and apply medical terminology
– recognise healthy body systems.
Students will also learn how to transport patients and carry out nursing assistant duties in various settings.
COST: Vocational Education & Training in Schools (VETiS) Funding and Fee-For-Service options are available.
For students eligible for VETiS Funding, the program costs $700 – Charged to Term 4 fees.
For students NOT eligible for VETiS Funding, there will be a Fee For Service cost TBA – Based on final holiday enrolment numbers.
*PLEASE SUBMIT YOUR INTEREST VIA THIS WEBLINK BEFORE 4PM THIS WEDNESDAY 15 SEPTEMBER 2021*
Please get in touch with any questions at all…
Kind regards,
Ms Bre Ramsay-Orr
Director of Student Futures
Canterbury College
TEL: 07 3299 0920
EMAIL: