Monday 9 August Logan City Show Holiday Remains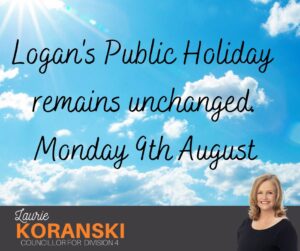 Public Facebook Post Message From Cr Laurie Koranski – Division 4 Logan City Council
PUBLIC HOLIDAY TO REMAIN FOR LOGAN
The City of Logan's annual Ekka holiday will go ahead as planned on Monday 9 August 2021.
The Queensland Government today announced the annual Brisbane Ekka holiday scheduled for Wednesday 11 August 2021, has been postponed to a date to be confirmed.
Logan City Council decided to keep its planned public holiday given the late notice to postpone would have created uncertainty for our community and disrupted long-held plans by schools and public transport, residents and business owners.
NB: Canterbury is observing Logan's Public Holiday THIS Monday. Please spread the word everybody!