Life Education Van Visits Canterbury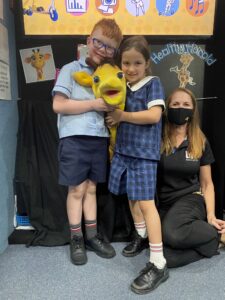 Over the last week, you may have noticed the Life Education Van parked in our Junior School carpark.
As the name suggests, Life Education is an organisation that empowers children and young people to make safer and healthier choices through education.
Their programs are designed by health and education experts, and go through constant revisions to ensure their relevancy and appropriateness for students of all ages.
Life Ed believe we have a responsibility to provide preventative health education to our young people.
Each Life Education program session promises a memorable experience and is delivered in a Mobile or Pop-Up Classroom by specialist educators, who use an innovative teaching and learning approach to engage students.
Each session is designed to intrigue, excite and prompt further learning.
Life Education's 40-year-long mascot Healthy Harold joins each session to help empower children to make safer and healthier choices.
Healthy Harold is a loveable giraffe and caring and loyal friend – a passionate advocate for the health and safety of all Australian children and their families.
To learn more about Life Education please visit THIS weblink.