Junior School Weekly Wrap Up | Term 1, Week 8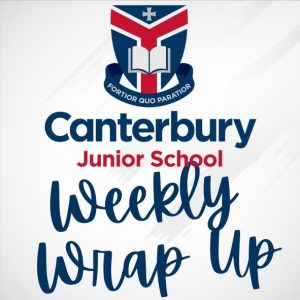 What a wonderful week we enjoyed in the Junior School with many events, starting the week with our annual Foundation Day Chapel and Cursus Magnus relay race.
We also had the Junior TAS Swimming Carnival, Year 6 Camp, NAPLAN, a Year 2 excursion to the Beenleigh Historical Village, a Year 1 excursion to the Kingston Butter Factory, more Rock And Water and The Sacred Sister Project sessions, plus a Bridge Builders parent session.
Congratulations to all our students who worked hard and pushed themselves outside their comfort zones, and participated enthusiastically in this week's events.
Also, thank you to our staff that left their families and children to attend and support these events.
This afternoon we welcomed back our Year 6 adventurers from their Outdoor Education experience.
I was privileged to join them on Wednesday and Thursday, and was impressed with their maturity and willingness to try all the challenges they were presented with.
Prospective Prep 2024, 2025, 2026 And Beyond Parent Information Evening
At 6pm next Monday 20 March we are holding our very first Prep 2024, 2025, 2026 And Beyond Parent Information Evening.
The aim of the evening is to provide families with information about the Canterbury Prep program and the years beyond, to assist families with decision-making and planning.
Prep 2024 is currently almost completely full, there are still a few places in 2025, some places in 2026, and the possibility of limited places for 2027.
If you have not applied for your child's younger siblings, please complete the Enrolment Application to ensure you don't miss out on places.
Technology
In our recent visit by Senior Constable Mitch Collins from the Eden's Landing Police Beat, to present the THINK U KNOW Child Online Safety Program to students, as well as a parent session, we received advice about best practices to keep our students safe.
So we have reviewed and updated some of our current policies and procedures.
I sent a letter earlier this week outlining the changes to our Mobile Phone Policy (Acceptable Use of Mobile Phone, SIM-enabled and Electronic Devices Policy) after being given this advice.
This policy can be accessed on our website: Policy Library.
Parent Teacher Interviews
Parent Teacher Interviews are coming in Week 10 on Monday 27 March.
This week's article provides some tips in preparation for these discussions: Link To Article
Upcoming Events
| | |
| --- | --- |
| Saturday 18 March | Junior TAS Sport Round 7 vs CHAC |
| Monday 20 March | The Sacred Sister Parent Information Session |
| Monday 20 March | Prospective Prep Parent Information Evening |
| Monday 20 March | NAPLAN Catch Ups |
| Monday 27 March | Parent Teacher Interviews |
| Thursday 30 March | Stephanie Alexander Kitchen Garden Pizza Day |
| Friday 31 March | Easter Hat Parade |
| Friday 31 March | Last Day of Term 1 |
| Monday 17 April | Student Free Day |
| Tuesday 18 April | First Day of Term 2 |
Michelle Leftwich
Head of Junior School