Junior School Vice Captains: Finn Watt & Arabella Carr – Term One Wrap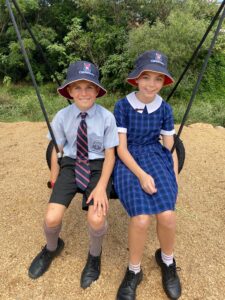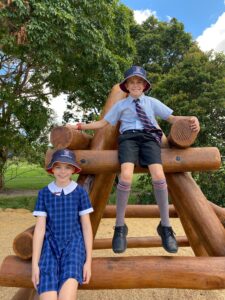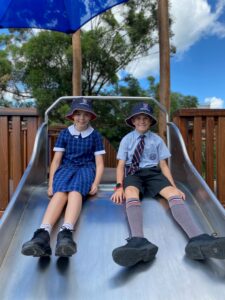 Wow, what a hectic Term One this has been!
A COVID-19 delayed start to the term, followed by gigantic amounts of rain, separated some of us from our teachers, classmates and school, and forced us into online learning.
It has been challenging, but in true Canterbury style, we fought through…
Term One Wrap
Term One has provided our students with many sporting opportunities, such as Junior TAS hockey and cricket, Woolworths Cricket Blast, and of course our Running Club, which has been very popular – especially for the younger students.
It is great to see everyone getting involved and showing their College pride.
The new Junior School playground has been a hive of excitement and has been an asset to our break times.
It is exciting to have the slides and so many activities to do on the ovals now.
Whether you prefer to hang out with your friends in the shaded undercover areas, challenge yourself with the climbing nets, or just slide down the fire brigade poles, there is something for everyone.
The new afternoon student pick-up zones have been a huge success, easing car park congestion and making collection times much quicker.
The new drop-off and pick-up area for Years 5 and 6 students over near the pool, has significantly helped with smooth runnings in the mornings and afternoons for our parents and carers.
Our wonderful Year 6 leaders have received fabulous feedback from parents and students, for their amazing assistance at the P-2 drop-off zone, with our younger students each morning.
Well done Captains and please keep up the great work!
While the Year 6 students are away on Camp, some of our eager Year 5 students will fill in these roles.
Some of our Year 5 and 6 students recently took part in the International 'Just Dance' eSports Competition.
They did amazingly well!
Congratulations to our Queensland Primary Scenic Rim/Ipswich District Fuse Cup 'Just Dance' Champions Isabella Heath, Lyla Ries, Hannah Kelmanson and Ruby Fay.
All the best for the Queensland State Titles in November.
Our new Taipan Roboneers Club has been busy learning coding fundamentals and programming their robots.
These students have been working hard to identify a problem, move their robot from a set location for a specific distance measurement, then collect an item, and finally return to its starting point.
Students have been designing a series of actions through coding, which programs their robots, then testing and improving its functionality – it has been lots of fun!
Now it is that time of year again… celebrating our 35th birthday Foundation Day with morning Chapel service lead by our new College Chaplain Reverend Melusi Sibanda, then our successful past student awards, then the running of our annual Cursus Magnus eight-leg relay race.
With eight representatives from each of the six Houses from Years 5 – 12, plus a staff team and past students team, they all ran the race of their lives doing two laps each (800 metres) in front of the entire school cheering them on.
And no… Becket House finally had their years long strangehold on the Cursus Magnus Shield broken by… Ramsey House! Congratulations to the Raptors in blue and their eight runners!
There are only three weeks left in this term, and moving into Term Two, we are hoping for less disruptions.
We look forward to seeing Canterbury back in full swing, with a busy calendar of sporting choices, learning opportunities and plenty of Canterbury spirit.
We wish you all a wonderful time over the upcoming Easter Holidays.
This time will allow everyone to spend time with friends and family doing the things they love.
Whether it be days at the beach, movies or vacations, it is the perfect time to refresh and get ready to tackle Term Two.
Stay safe and well!
Finn and Arabella